Exclusive: Draya Michele Skips Coachella And Chooses The Nearby Invite-Only Revolve Festival In Her Perfect Jean Shorts.
She paired them with a bra made of chains.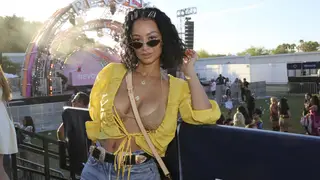 If you're wondering if Draya Michele looks good in person, the answer is yes, she does. The 34-year-old mother-of-two is sitting across from me on a velvet couch in an oppressive desert temperature upwards of 90 degrees, and there's not a dewy bead of sweat in sight.
We're taking a shady break at the marathon weekend party known as Revolve Festival, which is adjacent to, but not to be confused with, the Coachella festival simultaneously taking place some 10 or so miles away. Almost as if to prove how cool she is, the un-sweaty Draya is wearing a chain bra. Yes, you read that right. Chain. The bra is artfully styled under a billowy yellow silk top all over high-rise Levis shorts. The shorts are cinched at Draya's extremely small waist with a large western-style belt. Her hair is slightly crimped and parted down the center with crystal barrettes framing her face. She seems to be barely wearing makeup, which maybe is the reason she's not sweating and I am.
As most conversations amongst women begin, we start by discussing what she's wearing. "These are my shorts," she emphasizes, patting the pockets to drive her point. "I have probably six pairs of denim shorts that I really love but this is my pair. I will wash these, dry these and wear them two to three days in a row because I just love them. They fit to my body because I fit them to my body. I tailored them to me." She's not kidding, either. Draya is a big advocate for tailoring. In fact, you might say that's any stylish person's number-one secret. Of course, the shorts are a perfect fit, even for her impossibly perfectly proportioned body. She's got no gap in the back and there's no adjusting or fidgeting to be done. Her point about the one pair is high-key relatable. Most of us have one thing that sits on the throne of our wardrobe no matter how many new things audition for their time in the spotlight. 
I'm interested in Draya's philosophy on festival wear since her somewhat evasive fashion journey is admirable. She spoke out earlier this year about the difficulties of being a Black woman trying to make it in the fashion industry. Yet, in spite of those obstacles, she has. She says, "I'm just learning to be very patient. As a woman of color, there are obstacles that I've had to face and overcome that are still kind of there. It's just patience, relaxing and knowing what is meant for me will come to me. [I'm] just waiting patiently for my time and my spot." With a successful swim line and more modeling gigs than I can keep track of, it would seem that that strategy is working. It, of course, does not hurt that Draya checks every single box of the physical ideal there is.
When I ask about her food and fitness philosophy, she doesn't pretend that the results you see aren't without hard work. Draya is currently reaping the benefits of her pescatarian diet. "I am 6 months pescatarian. I've tried to limit my chicken and red meat consumption a lot. I try to drink a lot of water. I try to work out. My downfalls are sweets. I really love sweets. And alcohol goes with partying. If I'm going to drink, I try to diet. If I'm not going to diet, I try to skip dessert. Dieting is always going to be a struggle, so that's why you have to balance it with working out. I don't eat whatever I want, but if I do eat whatever I want, I at least got to work out to make it even." She might have a lot to do after this weekend, which marks her first Coachella ever, and she's doing it big, really big.
Revolve, an online retailer for designer and contemporary clothing, has earned a notorious reputation for creating some of the most fomo-inducing experiences. Most brands would kill for just a slice of their marketing superpowers. Their brand activations span globally from beaches in Ibiza to forests in Japan, but the pinnacle of the social calendar for Revolve its own festival at home in California. Taking place on the expansive Merv Griffin estate, the festival features carnival rides, several bars, food an expansive flower wall with 50,000 blooms (for photos, naturally), gifting suites and a mega-stage for all of the performers. This year the lineup included SZA, Tyga, Offset and Cardi B. It's an invite-only party, so forget trying to buy a ticket. This makes getting invited somewhat of a status symbol. This year, it's bigger than ever. In fact, it's Draya's only destination despite the fact that she could essentially walk to the Coachella grounds from where we sit.
Draya describes it as "a nonstop party from the morning to the night." That part is true. The Revolve festival stretches over two days and features an all-star lineup of hip-hop and R&B acts. The day I am with Draya, SZA will be taking the stage. Draya considers this to be a highlight. "I am looking forward to SZA. I don't care what else is really going on outside of this Revolve festival. This is kind of it for me. If there's something else happening, I don't know! I'm excited to see the performances."
She's excited about being here, since despite her penchant for partying, Draya has never actually participated in perhaps the most famous millennial party there is: Coachella. Her ambition for making it through Revolve festival, though, is simply staying awake. "If I can make it to the night, that's a goal, because I'm a day partyer." Draya likes to get down, but there are limits. Firstly, she's a mom and secondly, she's a boss. "My family and my children are most important, so I make time for them first and everything else comes second, which is the business. The partying is last. I make time for children, I run my businesses and then if there is a little bit of time left, I squeeze in the partying in there."
Don't get it twisted though, Draya still knows how to have a good time, but she is very determined to keep her life from sliding down a deep, dark Hollywood rabbit hole. She does this by making sure that her friends are normal. "I have friends that are regular working girls. I have entrepreneur friends that have their own business, and it's just a great balance. I'm not the girl who does celebrity friends. I don't have Hollywood friends. I have real girlfriends and they've been supporting me since day one. They were helping me put beads on swimsuits seven years ago. They're just amazing. I'm really blessed in the friendship department."
What's most refreshing about meeting someone like Draya is that she doesn't come with a warped view that distorts her sense of reality. It's always strange to meet someone that you have only interacted with on small screens before. You might feel like you know them, but you don't. Draya actually agrees, and though there are varying levels of celebrities swarming the Revolve Festival, Draya minds her business and knows that Instagram is not real life. She says, "I have a whole tab in my Instagram that's saved, and it's called 'Pretty Girls.' In case I want to use a model for something. I come to events like this and I see them in real life and I'm like, 'Oh, there's that girl. I have her saved in my Pretty Girls tab.' It's like, 'Aww, you actually are pretty.' It's nice and refreshing to see people that look like what they post.' It's actually refreshing to see that Draya looks like the photos she posts. Actually, it's unbelievable. It almost never happens. She understands the pressure but it doesn't phase her, and that's part of why it is important for her to remain grounded. "You can't take social media too seriously. [People] feel like they are obligated to look a certain way, and it's like, just be yourself, you know? You only get one life to live and you've got to live it being yourself, because if you are pretending to be someone else, at the end of your life, did you really live your life, or did you live a made up fantasy life?"
Well, in a lot of ways, being a Coachella is a fantasy. It's easy to see how some people get caught up, but Draya just won't ever get to that point. "I feel like I use Instagram for the tool that it is. It's a marketing tool, number one. I am so blessed to have followers that look to what I wear, to what I buy, [and] routines that I follow. I'm lucky to have that. The other stuff that comes with it, you just gotta grow up. It's a maturity process." I'll be signing up for the Draya marketing and motivation seminar and I don't think I'll be alone. Until then, Draya and I are going to try to hold it together in the sun until SZA goes on.