Michael K. Williams: A Tribute To His Passionate Fight For Justice And What Brought Him The Most Joy
Political Strategist and Social Justice Advocate Ashley Allison remembers a kindred spiritual bond with the actor, who she says was a "a Black man who believed in a better day."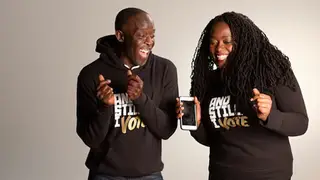 All around the White House that day in 2020, we all heard the rumbles that Omar was coming. Our team had organized a meeting between Republicans and Democrats activists who supported the need for criminal justice reform to meet with then President Barack Obama and actor Michael K. Williams was on the guest list. 
Just before the meeting started, Michael was sitting with his hands folded and resting on the table in the Roosevelt Room. He looked sharp and had a stern but nervous look on his face. He was situated in the middle of the table directly across the empty seat that would eventually be filled by President Obama. 
The President entered the room and made his way around the table shaking everyone's hands. He got to the middle seat and looked up and said, "My man Omar!" Everyone laughed, including Michael as they began to grip each other's hands and give the all too familiar Black man's handshake and embrace. 
We were in the meeting for about 20 minutes before it was Michael's turn to speak. That direct, raspy voice, with the New York swag began to talk and you immediately thought – wow, Omar. 
At that time Michael had become an ambassador for the ACLU and was fighting to change the injustices of our criminal system. But in the meeting, he represented so much more. As he began to tell his story, you realized that Omar was indeed just a character and that Michael K. Williams was so much more. If you allowed yourself to be star struck for longer than a moment, you could have missed the layers of a man who shined a light on the trauma, pain, joy, truth and rawness of his personal experiences. He explained that while The Wire told a particular story - he himself had witnessed so many instances of injustices in our criminal system. 
Michael shared so much that day. His vulnerability shifted the energy in the room from pure policy to a focus on the people directly impacted. He didn't just tell his story, but he brought the lives of so many Black, brown, queer, poor, and people living with addiction into the room that day. You could tell he came to deliver a message and was just as good of an advocate as he was an actor. When the meeting wrapped, Michael made the most earnest glare towards President Obama as a way to let him know that he had high expectations for action and change. 
Fast forward some years and I was fortunate to encounter Michael again. The civil rights organizations I was working for at the time was about to launch a national campaign to stop voter suppression. Michael had agreed to participate in a PSA for the campaign.
Michael walked on set with a light-hearted spirit and immediately took his mark to deliver his lines. After he finished, I went up to thank him and reminded him of the last time we met in person. 
He jumped up and down and said, "Yo, thank you for inviting me to that meeting. I will never forget that day". He told me that that meeting made him realize the power of storytelling in advocacy and that one voice could have an impact. Because of that meeting he was inspired to make the documentary "Raised in the System" to bring awareness of the juvenile "in"justice system. He begged me to watch the film (I didn't need much convincing) and asked if we could stay in touch in an effort to keep fighting for justice.
We talked for a good bit that day. Some about criminal justice reform, some about me, and some about him. We made up a little dance and called it "Melanin Poppin" because we are both richly chocolate and well, poppin. 
Before we said goodbye, he asked me to take a photo. He said, "you know, when I look at you I see my sister. You look like my family. Will you be my sister?" I gave the biggest smile, dropped my head and said, yes. As he walked out, he looked back and said, "Alright sis, don't forget me!"
In the tributes that have overwhelmed social media since his death was announced a few days ago, people have commemorated his life focusing on his most famous characters, Omar and Chalky White from Boardwalk Empire or the dozens of other amazing characters he personified on screen. But if you ever met him, even if for only a moment, you met Michael – a Black man who believed in a better day and dedicated his platform to fight for justice while simultaneously touching so many people with his talent and joy. 
Michael K. Williams you are unforgettable!
Ashley Allison is a political strategist and social justice advocate who has worked for President Obama, President Biden and Vice President Harris. She is also a CNN commentator.