Taylor Hale Wins Season 24 Of Big Brother And Becomes The First Black Woman To Win The Series
She also becomes the first contestant to win the series and become "America's Favorite Houseguest."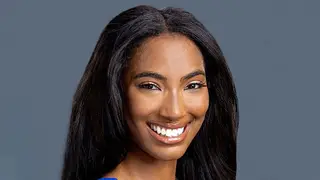 Big Brother has made history and crowned its new winner in Taylor Hale, who is the first Black woman to win the competition. She also made history by being the first winner to win "America's Favorite Houseguest" earning an $800,000 cash prize.
This was a tough season for the winner as she faced scrutiny and microaggressions from her castmates, which sparked social media to rally behind the  2021 Miss Michigan USA recipient.
In her final statement before being crowned the winner, Hale shared she is not a "victim" but a "victor" and how she was the most resilient competitor this season.
"I have overcome so much in this game, and I have come to understand that I am not a shield. I am a sword," she shared.
"I am not a victim. I am a victor. If there is one word that is going to describe the entire season, it is resiliency. If you were to ask yourself who the most resilient person of this season has been, it is me."
You can watch her victorious moment in the video below.