What Most Blacks Don't Know About Their Heart
How much do you know about a healthy heart?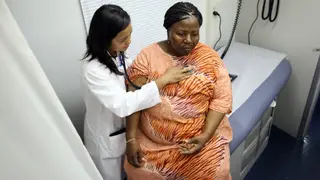 There's something very important that most African Americans don't know about when it comes to understanding how to protect your heart health.
African American adults are more likely to be diagnosed with coronary heart disease, and they are more likely to die from heart disease. Also, although African American adults are 40 percent more likely to have high blood pressure, they are 10 percent less likely than their non-Hispanic White counterparts to have their blood pressure under control.
Adding to this problem is the fact that, according to a recent survey, only 1 in 5 Americans consider themselves at increased risk for atherosclerosis–a progressive disease where plaque builds up in the arteries slowly over time. The survey also revealed that only 21 percent of respondents could correctly identify all 6 surveyed risk factors for the disease: high cholesterol, high blood pressure, diabetes, family history of early heart disease, smoking and obesity.
This is particularly important because plaque buildup over time can lead to narrowing of the arteries, which is one of the most common causes of heart disease.
For adults living with high cholesterol plus at least one additional risk factor, it's even more important to understand which risk factors can be moderated.
"Heart Month is an ideal time for patients to reflect upon their health and talk with their doctor to learn about the risk factors for plaque buildup in arteries and whether they may be at increased risk for atherosclerosis," said Dr. Philip de Vane, Executive Director of Medical Affairs and Strategic Development at AstraZeneca. "This education can be extremely valuable for adults, particularly those who are unaware of their increased risk, and may help mitigate the progression of this disease."
Read more about what Blacks need to know about heart health at BlackDoctor.Org.
BET Health News - We go beyond the music and entertainment world to bring you important medical information and health-related tips of special relevance to Blacks in the U.S. and around the world. Click here to subscribe to our newsletter. 
(Photo: Rick Gershon/Getty Images)