Rising R&B Star JAWAN Drops 'Cause & Effect' Single With Bigger Projects On The Horizon
The talented singer/songwriter talks about his passion for R&B and the inspiration behind his new single.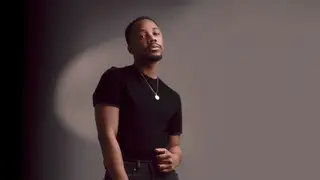 A few years ago, while recovering from a vocal injury, JAWAN was at a crossroads. He was studying classical music and musical theater in Mississippi but had no passion for them.
"At that point, I never want to sing another note of a song that I don't connect with," 
JAWAN recalled vowing to himself. "Classical and musical theater just was not where my heart was. It was with R&B."
JAWAN's vocal cords recovered nicely, and now R&B fans have much to look forward to.
Staying true to his word and vision, in 2014 JAWAN  and his mother drove 18 hours straight from their hometown of Columbus, Mississippi to New York City. 
"I had to go to where I thought the land of opportunity was. And that's where everything started," the budding singer/songwriter said. 
In August, JAWAN dropped "Cause and Effect," a powerful ballad about a failed relationship in "a toxic loop." 
It's the third offering that he has released as part of a five-track EP named "The Abstract" that drops in November. He previously released "Assurance" and "Call Me" for this project.
JAWAN pours his thoughts and feelings into his songwriting and his style of delivering the message.
"I'm not pulling words from thin air. This is stuff that I've actually lived through, and I use my music as a way to process those things," he said, adding, "it's very therapeutic."
A relationship that spiraled down into "a not-so-great situation" inspired "Cause & Effect." There was a lot of on-again, off-again that was sometimes traumatic.
"So we were good, and then not good and then good again. It was like, at what point can we just get off this ride?" he recalled. 
The cause was the behavior that triggered the effect of deciding that enough was just enough and it was time finally to call it quits. "And I knew it was going to hurt. But, you know, that's cause and effect. You hate to see it, but you know, it is what it is," JAWAN explained.
JAWAN and his team are busy assembling the pieces for a full-length project that's scheduled for release at the top of 2022. He said it will be packed with life and love experiences that are universally relatable and expressed in his signature style. 
"It runs like a daydream sequence, very whimsical with dreamy elements," he described the feel of the music.
How It Started
His passion for R&B took root as a child sitting in the backseat of his grandmother's car. Her radio was always on the local R&B station while they drove around their small town. 
He later attended the Mississippi School of the Arts, a boarding school for artistically gifted students, where he trained for two years in classical and musical theater. 
When he reached that crossroad to make a decision about his future music career, it was a no-brainer to follow his heart. 
While pursuing his dream in New York,  he landed internships and several jobs in the music industry, mainly working behind the scenes.
JAWAN is now holding down a social media marketing job at BET but keeps his two worlds separate. 
"I worked at BET for two years before anyone knew that I had a music career," he revealed. "So when it comes to balancing the two, I take one hat off and put the other one on."
He appears unstoppable when wearing his music industry hat. With the release of "Cause & Effect," JAWAN's growing fanbase has another small taste of bigger things to come.