Bishop Eddie Long Considered Suicide After Being 'Condemned'
He explained it all during a recent service.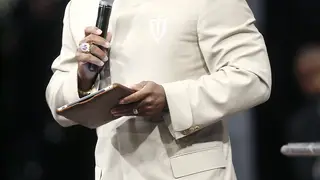 Bishop Eddie Long has come under fire over the past few years for allegedly taking advantage of young men, and now he is revealing that that moment almost pushed him to take his own life.
According to the Atlanta Journal Constitution, he told his New Birth Missionary Baptist Church congregation that the suicidal thoughts started when he was getting "condemned from the four corners of the Earth." "I had a moment... I wanted to kill myself and was ready," he said.
While he did not specify what caused him to have these thoughts, the context of his words appear to fit with the 2010 allegations that he preyed on several young men for sexual favors. He was slapped with four lawsuits after the scandal went public. They were all eventually dismissed "with prejudice" in 2011.
In the video, titled "The Power of God's Love," a teary-eyed Long said because "my family loved me, my church loved me... regardless of what anybody said, love lifted me and carried me. And you didn't judge me. There are folk here who know what I mean, that you're alive because somebody loved you. They didn't give you a sermon, they didn't question you, they didn't call you before a council."
Take a look at the full video below:
Also, watch the BET Digital original documentary Holler If You Hear Me: Black and Gay in the Church in its entirety below:
(Photo: John Amis-Pool/Getty Images)
BET.com is your No. 1 source for Black celebrity news, photos, exclusive videos and all the latest in the world of hip hop and R&B music.