Police Arrest Man Who Killed 1, Wounded 4 At Atlanta Hospital
Deion Patterson was taken into custody after a daylong manhunt.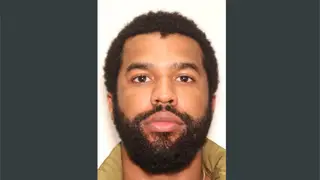 Police have arrested a man in connection with the fatal shooting of one woman and wounding four others at a Midtown Atlanta hospital after a manhunt tracked him to suburban Cobb County, law enforcement officials said. 
Deion Patterson, 24, was taken into custody just after 8 p.m., Wednesday, in Cobb County, Ga., several hours after opening fire during a medical appointment at Northside Hospital Midtown. His mother was reportedly with him at the time and had cooperated with officers.
Police say Patterson opened fire in the hospital's waiting room, fatally wounding a 39-year-old woman, and also wounding four other women, ranging in ages from 71 to 25. Their identities have not been released.
At a press conference shortly after Patterson was apprehended, Charles Hampton, the Atlanta Police Department's Deputy Chief of Criminal Investigations said officers saw on security footage that he left the medical facility and went to a gas station, where he stole a pickup truck that was left unattended and running.
Officers were alerted by tracing the vehicle that Patterson had fled to Cobb County. It is unclear if there was a particular destination he was trying to reach. 
"There was a series of search warrants drafted, both here in Atlanta and Cobb County because we were getting information of residences that he may go to," said Hampton. About 12:30 police in Atlanta were alerted that Patterson had left their jurisdiction and entered the neighboring jurisdiction.
Stuart VanHoozer, Cobb County's Chief of Police said that when Patterson had been identified on security video there, officers were dispatched to the area where he was pinpointed and began a search for the stolen truck. 
The vehicle was found abandoned in a parking garage, but operators working with police fielded a series of calls that allowed officers to close in on the suspect.
"An undercover officer was the one that saw and confronted this individual and was then able to have backup from uniform officers that came in and took him into custody without incident," said VanHoozer. 
Patterson was caught at an apartment complex near Cobb County's Truist Park, according to reports.
According to CBS News, citing a spokesperson, Patterson served in the U.S. Coast Guard, and was discharged in January.


Patterson's motive for opening fire and how he obtained a firearm remained unclear Wednesday night, but his mother said he was afflicted by mental illness.
In an interview with local station WANF, Minyone Patterson offered her condolences to the victims, but said that her son had suffered and was not treated.
"He doesn't know right now. Please," she said. "This mental illness is real, and when we say it's real, from the medical standpoint, it is real. And when someone is saying they need help, or you see that they are acting out of sorts, they need help. Help them, just don't disregard them. They need help, and as I'm trying to advocate for my son, he was turned away."