Details Revealed in Arrest of Woman After Her Kids' Bodies Were Found Under Neighbor's Home
Kahana and Oralyn Thomas's lives were cut short.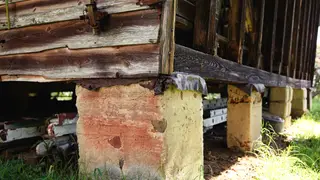 On Friday, 5-year-old Kahana and her 7-year-old brother, Oralyn, performed in a talent show for Nenes Kiddie Kollege day-care center. Sophia Faultry, the director of the day-care, remembered sending the two children home after their wonderful performance. 
"She grabbed (the daughter) by the head and forced her underneath the water until she stopped moving," read the affidavit. "After she wasn't moving and she wasn't breathing, she took the body out of the water and placed her in the bedroom."
Then Thomas placed her son in the water. Oralyn put up a struggle and grabbed her hands, but Thomas "continued to force his head underneath the water until he stopped struggling, he stopped moving," according to the affidavit. Thomas placed his body next to his sister's in the bedroom and then later Friday put their bodies in a trash can behind her home.
According to Houston police spokeswoman Kese Smith, Thomas first attempted to bury the children under the neighboring home, but when it was too difficult, she placed them in a space under the home.
Thomas then began to pack up her belongings and asked an acquaintance to help her move. As they were packing things into her truck, the acquaintance, an unidentified man, asked about her kids.
"That's when she was very matter of fact," Smith said. "She stated: I killed them. She was so matter of fact, he didn't think she was serious."
As they started to leave, the man asked about her children again, and she reaffirmed that she had killed them.
"He then drove her to nearby patrol station," Smith said.
None of the neighbors knew Thomas well enough to vouch for her mental condition, but they all believed that she appeared to be a good mother and they are shocked she would commit such a terrible act.
"She made sure she kept the kids clean," said Shirley Baines, Thomas's neighbor. "She takes care of them. She goes to the store... to me she was like, a real nice person. They are good kids. They don't play with nobody. I mean, why would someone do their kids like that? I mean why? They are innocent!"