FAMU's Robert Champion Death Ruled a Homicide
Florida A&M drum major Robert Champion's death has been ruled a homicide after an autopsy showed he died from internal bleeding as a result of blunt force trauma.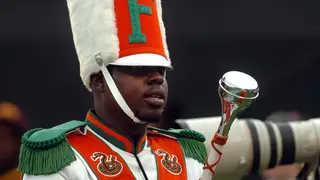 Officials in Orlando announced Friday that the death of Florida A&M University drum major Robert Champion has been ruled as a homicide.
An autopsy showed that the 26-year-old died of internal bleeding caused by blunt force trauma. Champion reportedly had bruises on his chest, arms, shoulder and back. Authorities believe he sustained these injuries following a hazing ritual.
According to a release from the Orange County medical examiner's office, immediately after the incident, Champion "complained of thirst and fatigue; minutes later, he noted loss of vision and soon after had a witnessed arrest. These symptoms are consistent with hypotension or shock."
Champion's death on Nov. 19 uncovered a horrific culture of hazing with the school's famed band, the Marching 100. Earlier this week, three other band members were charged with the hazing attack on a female band member who sustained blood clots and a broken thigh bone after she was struck repeatedly as part of an initiation into a clique known as the "Red Dawg Order." The band's longtime director, Julian White, was suspended as a result of Champion's death, and on Thursday, Florida Gov. Rick Scott called for the suspension of the university's president, James Ammons.
Scott has also called for a criminal investigation into the school's affairs, led by the Orange County Sheriff's Office and the Florida Department of Law Enforcement.
Any death involving hazing is a third-degree felony in Florida. So far no charges have been filed.
BET National News - Keep up to date with breaking news stories from around the nation, including headlines from the hip hop and entertainment world.