Bow Wow Buys His Mom A $100K BMW For Mother's Day, And Her Reaction Is Priceless
The rapper knows exactly what his mother wants!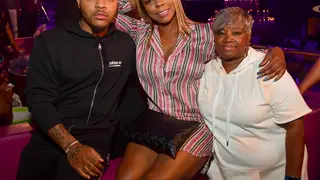 When it comes to great gifts, Shad Moss knows how to pick them. 
For Mother's Day, the Growing Up Hip Hop star headed to the BMW dealership in Gwinnett County, GA to cop his mom a white 2020 BMW 8 Series 840i, and her reaction was priceless!
Keeping scrolling to see the rapper's brand new purchase: 
"Happy Birthday, Happy Mother's Day, come up here and get this thing, man," he proudly stated while showing off the new whip. It seems that the man, formerly known as Bow Wow, took his time to find just the right present for his leading lady. "I spent most of my morning up here," he revealed in the video clip.
His momager Teresa Caldwell, who celebrated her birthday on May 9, seemed very pleased with her shiny white, four-door whip.
"I love my new car, I love the interior. You did your thing," she affectionately told her son. 
So, how much did he drop on the hot ride? According to the bmwofgwinnettplace.com, the 33-year-old spent close to $100K to make his mom's day special. Judging by the beaming smile on her face, we think he did a great job!