R. Kelly Is Reportedly Holding Girls Against Their Will in a 'Cult'
The alleged details are scary.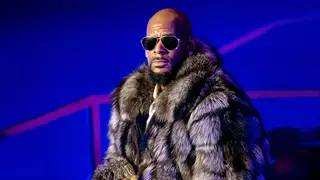 In what is being dubbed a parent's worst nightmare, reports from several parents have come forth with disturbing details of R&B idol R. Kelly and his alleged abusive, sex-crazed cult where he's operating straight out of his home.
Now that these parents have shared specific details on their reports, including multiple women being held against their will, violently abused, and forced into sex, the hair-raising accusations are rapidly arriving at the public forefront. 
According to a lengthy, in-depth report from BuzzFeed News, parents whose daughters have been taken under Kelly's wing have been involuntarily initiated into what they've declared a "cult." 
Testimonies from the parents allege that he operates these "cults" from his properties in Chicago and Atlanta, detailing his heinous behavior and daunting conditions that the women have been forced to undergo. The Chocolate Factory singer has reportedly taken on complete mind control tactics to keep the women under strict control such as taking away their personal cellphones to replace them with his own purported for communication with him only and trapping them inside of the homes. From controlling what they are allowed to eat, wear, and when they are allowed to sleep or use the bathroom all the way to forcing them to call him "Daddy" and requesting permission to leave their assigned rooms, parents are fearing for the lives of their daughters under Kelly's alleged dictatorship. He also reportedly forces them to have sex as he films. But that isn't even half, or the most shocking, of the allegations parents have brought against Kelly. 
"It was as if she was brainwashed. [She] looked like a prisoner — it was horrible," a parent, whom BuzzFeed left unidentified to protect the privacy of the family, reportedly said of seeing her daughter for the last time in December 2016. 
Identified as "J.," she reported that her 19-year-old daughter met Kelly in May 2015 and he offered to help her music career soar. She said she and her daughter's father had been active and protective over their daughter's career, but after she was flown out to one of his concerts, things took a dreadful downward spiral. Taking matters into her own hands, she said that she had no luck with the FBI because her daughter is not considered a missing person, likely due to the fact that she's able to have contact and her whereabouts are known. J. now reports that upon seeing her daughter for that last time, she had taken on the behavior of a victim suffering from Stockholm Syndrome.
"I hugged her and hugged her," she told BuzzFeed. "But she just kept saying she's in love and [Kelly] is the one who cares for her. I don't know what to do. I hope that if I get her back, I can get her treatment for victims of cults. They can reprogram her. But I wish I could have stopped it from happening."
Close members of Kelly's entourage also seconded the parents' claims, named as Cheryl Mack, Kitti Jones, and Asante McGee. According to Mack, who worked as Kelly's personal assistant for a year and a half, he's "a master at mind control" and takes on the role of a "puppet master" over his reported hostages. The two others, which BuzzFeed points out were personally involved with Kelly at different time periods, respectively, revealed that he had subjected them to the same hostage-like conditions. They were not allowed to take photos with him or anywhere they happened to be while they lived under his roof and he kept tight tabs on their phone use, including social media, BuzzFeed adds.
The three women named up to five women who had been drafted into the "cult," beginning around 2008 and including a young 18-year-old girl from Florida and a 31-year-old "den mother" who "trains" newly recruited victims on how to pleasure him sexually. Identifying the women not by name, but as his "babies," Kelly reportedly strong-arms the women into other control tactics like making them wear jogging suits, so as not to "look appealing" to other men, the women reported. He's also got extra pairs of eyes on the women, they added, reporting that a black SUV with a driver behind the wheel is frequently parked outside of the Atlanta and Chicago homes as well. And if the women break any of Kelly's reported "rules," they are brutally punished with physical harm.
BuzzFeed digs up some of Kelly's previous legal fumbles involving sexually predatory violations as well, such as his 2008 child pornography case in which he was found not guilty on all counts. Despite attempts to reach Kelly and his team on the allegations, the only person to speak on the claims thus far is a Chicago civil lawyer, Linda Mensch, who debunks the claims and rallied for the public to respect Kelly's life outside of the public eye.
In a responsive email, Mensch said that the allegations were an attempt to defame Kelly's legacy. 
"He works hard to become the best person and artist he can be," she told BuzzFeed in an email. "It is interesting that stories and tales debunked many years ago turn up when his goal is to stop the violence; put down the guns; and embrace peace and love. I suppose that is the price of fame. Like all of us, Mr. Kelly deserves a personal life. Please respect that." 
Read the full-length story here.