Black History Month 2022: The 10 Dopest Black Directors To Watch This Year
BET.com picks the top crop of bold and brilliant filmmakers who deserve all of your attention.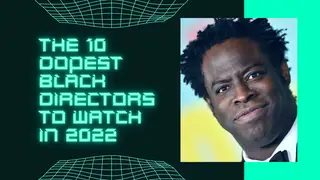 Bold, Black, and Boisterous are the three themes that this current generation of filmmakers are championing in their work. Ready to tell the stories that not only define the next generation of Black cinema, but lead the charge to create opportunities for up-and-coming creatives — these directors are storytellers who are rewriting the playbook as the new purveyors of the culture.

Following in the vein of Barry Jenkins, Dee Rees, Jordan Peele, and Nia DaCosta, this year's selection of dope creators behind the lens have laid new ground while building on the cinematic traditions and art forms from our cherished past. Multifaceted in skill and execution, diverse in the adventures imagined for audiences to enjoy, and full of desire to add humanity and nuance to Hollywood, these Black directors are ones to keep on your radar this Black History month and for years to come.
Jeymes Samuel

His name will now and forever be synonymous with the rise of the Black Western cinematic universe. Jeymes Samuel, who is the frontman behind The Bullitts, has been blueprinting the pathway to The Harder They Fall since 2013's They Die by Dawn, which starred Erykah Badu, Rosario Dawson, Giancarlo Esposito, and the late Michael K. Williams. 

The former project, released last year to critical acclaim on Netflix, served as Samuel's feature film directorial debut. And if his plans to create a CCU (Cowboy Cinematic Universe) are true, strap in for a raucous ride thanks to this ingenious helmer.

Samantha Bailey

A noted writer and director from Chicago, Samantha Bailey turned her frustration into gold as the co-creator of the Emmy-nominated webseries Brown Girls. At the time of her assent, alongside Fatimah Asghar, Bailey noticed that the quality of roles offered weren't informed or filtered through a broader, more diverse lens. 

Quickly, she navigated herself from the self-produced web series into gigs directing shows such as Dear White People, Grown-ish, and the semi-autobiographical You're So Talented. Up next, Raina's Not Here promises to be another extraordinary experience by the stellar talent from the Windy City.

Stefon Bristol

When you're dedicated to being the change you want to see, the vision comes with relative frequency. Such is the case with Stefon Bristol, the co-writer and director behind Netflix's See You Yesterday. The sci-fi, time-travel led drama (produced alongside his mentor Spike Lee) went from being a short film on HBO to becoming an Independent Spirit Award winning effort at the 2020 ceremony. 

A Morehouse grad and imaginative filmmaker, Bristol has some genre-defying work to entertain and ignite audiences for 2022 and beyond.

Adjani Salmon

Driven to be the best at whatever goal is set, Adjani Salmon is an award-winning writer, actor, and director. A graduate of the Met Film School, Salmon wore many hats and his graduation film, His Father's Son, was screened at numerous film festivals, including Cannes, Blackstar, and the Montreal World fILM festival. 

Most recently, eagle-eyed Sundance attendees would spot him as "Dapper Dele" in John Ogunmuyiwa's Precious Hair & Beauty short film from 2021. Keep your notifications active for the next time a Salmon project is coming to a screen near you.

Blitz Bazawule

Ghanaian-born, New York-based multi-creative Blitz Bazawule has never blinked when faced with a challenge. Following up his Ava DuVernay-produced feature film, The Burial of Kojo, Bazawule has been prepared for the big moments since directing the Beyoncé-anointed visual album, Black is King. 

His penchant for melding magical realism with poetic, idiosyncratic imagery has empowered Bazawule's unique style to surpass the in-the-know film crowd and impress legends, as his film adaptation of The Color Purple, co-signed by Oprah Winfrey and Steven Spielberg, is due to hit theaters in 2023.

Janicza Bravo

The director's field is wide open after a new slate of diverse stories captured fans, critics, and Hollywood's attention. Janicza Bravo, a leader behind offbeat features (Lemon) and quirky yet acclaimed shows (Atlanta, Dear White People), is soon to become a household name thanks to Zola, a game changing adaptation of an infamous — and viral — 148-tweet Twitter thread turned award-nominated classic. 

As she prepares for her next venture, you can guarantee that her unpredictable and fiercely inventive style will be in front of your eyes sooner than later.

Morgan Cooper

The real winner of this year's Super Bowl — no matter who you bet for — will be Morgan Cooper. Have you ever known a first-time creator to get such a placement as to premiere their show, Bel-Air, in front of millions of people after the 2022 Super Bowl? 

Well, when you have a clear vision and a unique angle to an already proven model, as Cooper has, you're able to stand apart on the grandest stage of them all and positively make an impact for future creators of color to learn from. 

The former commercial director turned NBC golden child has positioned Bel-Air, which stars Jabari Banks portraying the character made known by Will Smith in a dramatic re-imagining of The Fresh Prince of Bel-Air, for greatness that cinephiles will surely congratulate even before kick-off.

Calmatic

Music and hip hop fans will not mistake the name Calmatic. A self-taught filmmaker, Charles Kidd II, has used his drive and determination to evolve from in-demand director for Top Dawg Entertainment to go-to director for LeBron James and Maverick Carter. 

As a director and writer, Calmatic focuses on humanizing the unique experiences, which you see in visuals like "Entrepreneur" (Jay-Z, Pharrell Williams) and "Old Town Road" (Lil Nas X), and expand their meanings. A South Central original, Cal's next slate of films unsurprisingly finds him alongside SpringHill Entertainment to helm the House Party and White Men Can't Jump reboots.

J.D. Dillard

A well-known and respected name amongst critics, it goes without saying that J.D. Dillard is worth the acclaim. His first feature, Sleight with Jacob Lattimore and Storm Reid, was a subversive reimagining of the superhero genre through the eyes of a Black street magician. 

And his follow-up, Sweetheart, was an impressive spine-tingling feature that highlighted Dillard's days as a go-getter with Bad Robot Films. Dillard has a busy few years ahead of him from a remake of The Fly, an as-of-yet announced Star Wars film for Disney, and is currently in post-production on the Jonathan Majors-starring war drama, Devotion.

Malakai

Film aficionados far and wide can agree that Malakai is the Jay Electronica of this filmmaking ish. An award-winning director, artist, and philanthropist whose 2019 film Souls was an undeniable light during festival season, Malakai's deep love of technology and Afrofuturism has caused her to become an in-demand world builder. 

She's already endeared herself to BET+ audiences as a helmer behind Lena Waithe's Twenties and is set to direct the adaptation of Victoria Schwab's The Near Witch with Marcus Scribner. You can currently see her work in ABC's limited series, Women of the Movement, and watch her turn the industry on its head.