22 Young Rising Black Hollywood Stars to Watch in 2022
Ten years from now, we'll be celebrating their successes and milestones.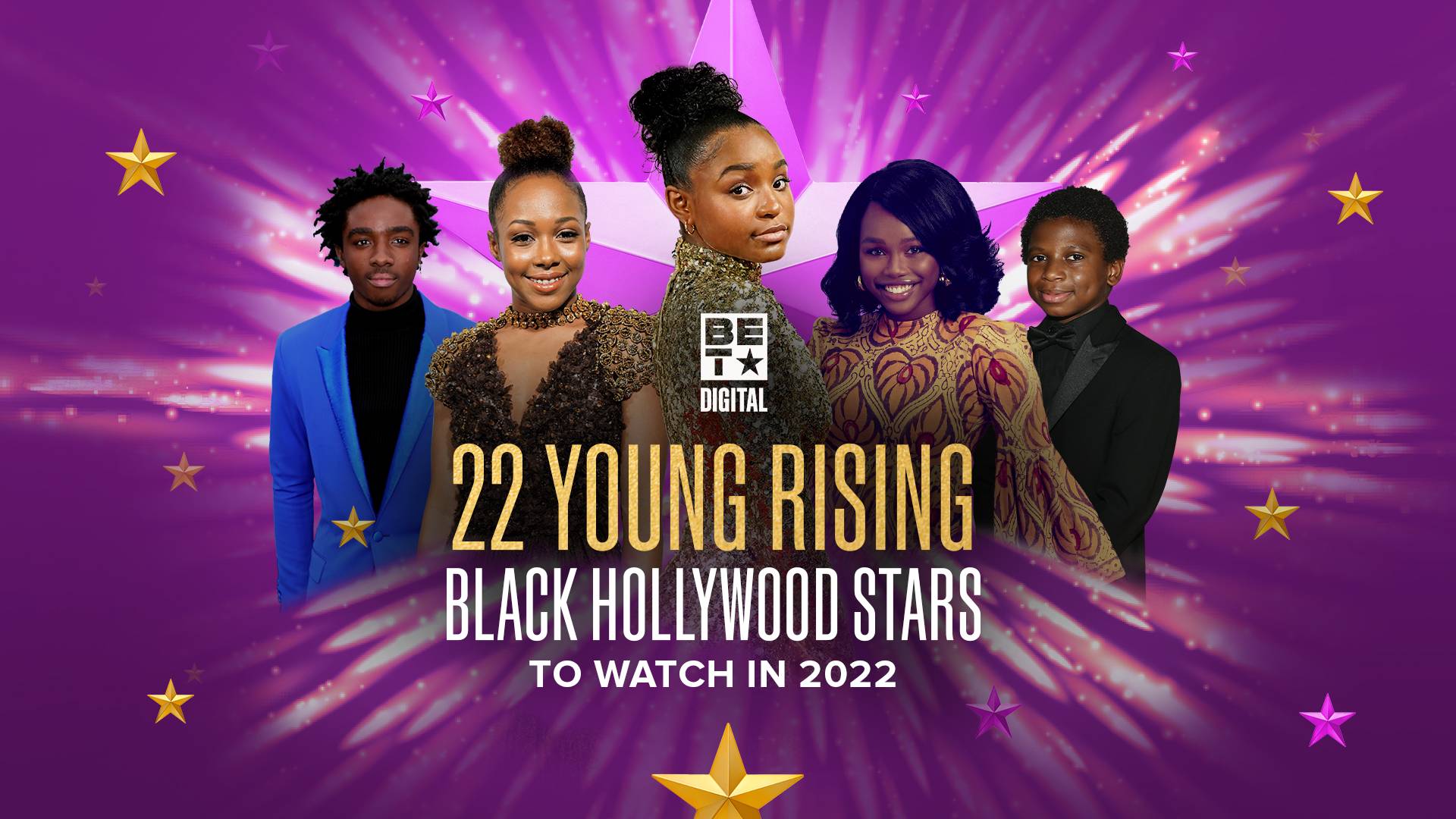 E'Myri Crutchfield

Past: Roots (2016)  
Present: Amazing Stories, Fargo (2020)
Future: Dark Harvest (2022)

Plucked from a thousand hopefuls at the Nickelodeon Groundling Sketch Comedy training in Los Angeles, E'Myri Crutchfield has shared her versatile range since she was eight years old. A native N'Awlins actress, E'Myri grew from small independent films like We Three Kings and Paper Cranes to portraying a teenage Kizzy in the 2016 Roots remake.

In the years since then, the now-L.A. resident followed up her 2017 NAACP Image Award nomination with a transcendent character display in Apple TV+'s Amazing Stories as "Sterling Johnson," and flexed her dramatic chops as "Ethelrida Pearl Smutny," the narrator and innately wise biracial daughter of a pair of funeral home owners in the Chris Rock-led, FX Network show Fargo.

Up next, she joins the cast of David Slade's Dark Harvest, a horror epic about a legendary monster that rises from the cornfields to confront those who are brave enough to tangle with it.

Isaiah Russell-Bailey

Past: Criminal Minds (2018)
Present: Family Reunion (2019-2021)
Future: Crater (2022)

The exuberant talent of Isaiah Russell-Bailey is contagious on- and off-screen. First bursting onto the scene in 2018 with appearances on Criminal Minds, Giants, and the Shamar Moore-starring S.W.A.T., which found him playing "Dee," a young kid who gets embroiled in the mix where "Hondo" (Moore) and the team are on the hunt to stop some bombing attacks.

His breakout role as "Shaka," the mischievous, yet well-intentioned young son on Netflix's family comedy, Family Reunion, which also stars Loretta Divine, Tia Mowry, and Anthony Alabi, has been the one he's most associated with, but in 2022 there's a promise of more to come. Blessed with magnetic charisma and athleticism to boot (he's an avid dancer and parkour practitioner) — Isaiah will take center stage as "Caleb O'Conell," a young boy as part of a moon-based field trip to explore an uncharted region in Kyle Patrick Alvarez's Crater. The adventure drama is expected to release sometime this year.

Danny Boyd Jr.

Previously: Watchmen (2019)
Current: The Underground Railroad (2021), Bruised (2021)
Upcoming: TBA

Danny Boyd Jr. is a little legend in the making. At only 11-years-old, the emerging Hollywood star already has six strong acting credits. Three of which are award-winning — Stranger Things, Watchmen, and Barry Jenkins' The Underground Railroad — and the other co-starring with the Oscar-winning actress Halle Berry.

He can mark his age and artistic growth through the progression of these films. If you add in #Freerayshawn, the Marc Maurino-created crime series with Laurence Fishburne and Stephan James, then you can even highlight that he had a string of award-nominated projects under his belt. In Bruised, he triumphantly held his own and captivated audiences without having to say much of anything in the role.

With nothing on the bill for 2022 (just yet) — it is only a short matter of time before we see Danny Boyd Jr. up at the podium to accept his own golden statuette.

Laura Kariuki

Previously: Black Lightning (2021)
Current: The Wonder Years (2021)
Upcoming: Along for the Ride (2022)

Laura Kariuki is dazzling audiences currently as "Kim Williams," the witty, activist-minded middle child on ABC's The Wonder Years reboot. In the series, she has the depth and breadth as an actress to reclaim a bit of cultural space that the original show didn't feature. And her chemistry with castmates Dulé Hill, Elisha Williams, and Saycon Sengbloh promises that The Williams Family could very well be on their way to becoming the next great American television family.

One of her more "controversial" roles came as playing "JJ/Lightning" on the hit CW's superhero saga, Black Lightning, which highlighted the exit of China Anne McClain. The casting move made people wonder if this would elongate the final season, which sadly, it did not. A stage actress with credits ranging from The Bluest Eye to The Submission, Kariuki's stock only seems to be rising with the consistent success with her work.

Up next in 2022 for the BFA degree-holder from Oklahoma City University is Along for the Ride, a romantic drama about a mysterious boy named Eli and the fun, carefree life experienced by his fellow teens.

Isaiah R. Hill

Previously: ZMNY x King Cassius: Portland (2019)
Current: Swagger (2021)
Upcoming: TBA

Not really a newcomer (his auntie is Ms. Lauryn Hill) but not yet a household name, Isaiah R. Hill is ready for the spotlight and is poised to eventually take over. His acting debut on Apple TV+'s Swagger finds him holding his own amongst proven Hollywood stars like O'Shea Jackson Jr. and Academy Award-nominee Quvenzhané Wallis, as Jace Carson, a hoops phenom looking to break out of his native Baltimore hood.

Loosely based on the life experiences of Brooklyn Nets forward Kevin Durant, Hill as Jace Carson, must deal with the pressures of being one of the top-ranked youth players in the country. Already over 6-feet-tall, Hill is an imposing presence on set with formidable basketball skills as a guard-forward from Union Catholic High School in Scotch Plains, New Jersey.

Swagger, which deals with such themes as targeted racism, the AAU money machine, and cyberbullying, is fertile ground to showcase Hill's deft and growing skills as a talented star on the rise.

Eris Baker

With NBC's hallowed series, This Is Us, taking its final bow this year, many Hollywood scouts are awaiting the next move from Eris Baker. Having come a long way from those days as a fresh-faced kid cutting commercials for Tarjay (Target), Baker as Tess, the precocious oldest daughter of Randall (Sterling K. Brown) and Beth (Susan Kelechi Watson), has become one of the most popular characters in the NBC series.

Apart from that, Baker has nothing but breakthroughs and promise ahead. The Los Angeles native doesn't have anything announced for 2022 yet, but with This Is Us spoilers held tightly under wraps, you can bet that Baker isn't going to be anywhere too far from that next groundbreaking script.

Kwesi Boakye

Born into Ghanaian filmmaking royalty (and royalty royalty) — Kwesi Boakye has been working on productions since he could walk. Cool aunties and uncles will recognize his voice as Gumball's best friend and adoptive brother on Cartoon Network's The Amazing World of Gumball. BET+ fans will recognize him as Manny in Tyler Perry's I Can Do Bad All By Myself. And eagle-eyed cinephiles will recognize him as the baby brother to fellow actors Kwame Boateng and Kofi Siriboe.

Blessed with a strong body of animated, live-action, and voice acting work — Boakye, at only 22-years-old, doesn't appear to be slowing down anytime soon. After starring alongside Adepero Oduye and Abraham Attah in Solomon Onita Jr.'s "controversial" Tazmanian Devil, Boakye looks to make his celebrated return to animation with the TV series and movie, Shu and the Resistance, based on the popular children's character. Thus proving that the crown doesn't stray too far from the kingdom when it comes to this rising talent.

Saniyya Sidney

Saniyya Sidney will be your favorite, go-to star for the next decade. Don't believe us, just take a look at her otherworldly performance on Fox's The Passage, as Amy Belafonte, an orphan girl turned vampire who may be the only person to save mankind. Or as Denzel Washington's daughter in the film adaptation of Fences, where she holds her own alongside him and fellow icon Viola Davis.

Her equally dynamic showing in the award-winning film, King Richard, proved that we'll be seeing a lot more of her on-screen for years to come. And with other credits in horror (American Horror Story), comedy (Kevin Hart's Guide to Black History), and superhero genres (Fast Color) — this explosive actress will perhaps forever change the game for young talent.

Add in this year's The First Lady TV series, where she returns in front of the camera with Davis as Sasha Obama, and you can add a few new awards wins to her IMDb.

Elisha Williams

Past: Henry Danger (2019)
Present: The Wonder Years (2021)
Future: TBA

If you have a family member under the age of 10, they'll instantly recognize Elisha Williams's distinct vocal abilities. A veteran voice actor at only the age of 12, Williams earned his stripes on networks such as Nickelodeon (Henry Danger) and Disney (Puppy Dog Pals), and has since brought his inquisitive nature to the world of ABC.

Starring as Dean in Saladin K. Patterson's The Wonder Years upgrade, Williams' natural cool and awkwardness plays well to his 12-year-old character's counterpart. Dean and Williams are both uniquely trying to figure out their place in front of and behind the camera, and while the former can come off as a tad awkward and a little insecure, the latter has shown promise and determination to make his mark on the world around him. A mini-comedic force in his own right, Williams, who looks to have (possibly) secured a Season 2 with The Wonder Years is just getting started and we're along for the ride.

Nico Parker

Past: Dumbo (2019)
Present: Reminiscence (2021)
Future: The Last of Us (2022)

When your first movie is the live-action remake of Disney's Dumbo, you can only go up from there. Aside from the burgeoning acting CV, Nico has become one of the most grounded new stars you'll ever meet. In Lisa Joy's emotional thrill-ride, Reminiscence, she easily weaves in scenes alongside her Emmy Award-winning mother, Thandie Newton and Hugh Jackman at one moment, and talking about returning to school the next.

This year, Parker will lead the charge in turning a classic video game into an award-winning original as Sarah in the HBO Max adaptation of The Last of Us. In the game, Sarah is the daughter of Joel (Pedro Pascal), who must later smuggle a young girl out of a quarantine zone. Let's just say, if Parker can nail this, she'll have endeared herself to a whole new audience.

Caleb McLaughlin

Past: Shades of Blue (2016)
Present: Stranger Things (2022)
Future: Warriors (2023)

The past few years have found audiences watching the growth of a mini-supernova. Caleb McLaughlin, who had already become a global name as part of the Stranger Things cast, delved into his bag to branch out into miniseries (BET's The New Edition Story), music ("Neighborhood"), and theatre (The Lion King). The 20-year-old would also try his hand at deeply dramatic roles in films such as High Flying Bird and Concrete Cowboy.

Trained in ballet, tap, and jazz, McLaughlin is a multi-talented force that continues to emphasize the young Black excellence the younger generation is holding themselves to. A BET and NAACP Image Award winner, Caleb McLaughlin has become a well-balanced young man and a truly captivating presence in front of the camera. In 2023, McLaughlin will put Stranger Things behind him to star in the animated feature Warriors, which will find him as "Greypaw," a member of a tribe of cats who must help a housecat survive the forest.

Marsai Martin

Past: The Mr. Peabody & Sherman Show (2016)
Present: Black-ish (2022)
Future: The Proud Family: Louder and Prouder, Fantasy Football (2022)

It's hard to call Marsai Martin a "rising star," when at just 17-years-old, she has already become a whirlwind sensation. Upon arriving in Los Angeles, she was cast as Diane Johnson on the ABC Emmy-nominated comedy black-ish, which led to a historic run in front-of- and behind-the-camera. The Plano, Texas original has taken a big swing at everything that has come her way, even becoming the youngest person ever to produce a movie with 2019's Little.

With black-ish ending this year on a high note, Martin has stolen the hearts of audiences around the world and looks to only be beginning to be in her producer's bag. Coming out on top of a bidding war, her Genius Productions will produce Amari and the Night Brothers, which she's also expected to star in. There's also Fantasy Football, a sports-comedy she'll co-produce alongside LeBron James' SpringHill Productions. Add that she'll join the cast of Disney's returning hit, The Proud Family: Prouder and Louder, and 2022 is poised to feature more Black Girl Magic from Marsai.

Hailey Kilgore

Past: The Village (2019)
Present: Power Book III: Raising Kanan (2021)
Future: TBA

A singing and performing wunderkind, it could be hard for Hailey Kilgore to remain modest, even if she was born in Humble, Texas. Having got her start in front of live audiences, Kilgore took part in several pageants and won the 2015 Miss Oregon's Outstanding Teen competition. She would quickly gravitate to larger-than-life projects such as Respect with Jennifer Hudson and Steven Spielberg's Amazing Stories series for Apple TV+.

Moving into 2022, the goals have increased for the Tony-nominated actress (for 2017's Once On This Island). As part of the steller Power universe, she has wowed new and longtime fans as Jukebox, the younger cousin to 50 Cent's Kanan street hood. Kilgore, who doesn't have anything publicly in the works for this year, will be a fan favorite upon Book III's return, which likely feels like summer.

Lexi Underwood

Past: Family Reunion (2019)
Present: Sneakerella (2022)
Future: The First Lady (2022)

Lexi Underwood is out here living her best life to the fullest. Blessed with the talent and voice to usher in the next generation of Black Hollywood stars, Underwood has been nurturing her passion for directing while audiences are enjoying her current slate of 2022 projects. Netflix subscribers may know her best as Ava, the church BFF of Talia Jackson's Jade, on Meg DeLoatch's Family Reunion. Others may remember how she gave Reese Witherspoon and Kerry Washington a run for their money on the Hulu adaptation of Celeste Ng's Little Fires Everywhere.

On top of school, Underwood has leveraged mentorship opportunities from Miss Kerry to embrace all the adrenaline that goes into filming. And while this one-star turn on a much-watched TV show does not a star make — her upcoming work on Disney's Sneakerella and The First Lady with Viola Davis as Malia Obama make her a household name in the making.

Chase Dillon

Let this writer go on record as saying to anyone who puts Danny Boyd Jr. and Chase Dillon in a project together will be creating a very powerful cinematic experience. In less than three years, the 11-year-old has broken through any barrier placed in front of him to land some pretty stellar roles. His first time with Barry Jenkins' script for Colson Whitehead's The Underground Railroad adaptation for Amazon Prime was met with rave reviews, while his hilarious portrayal as a young Michael Che helped the HBO Max show to return for a second season.

Dillon, who is still naturally in the early stages of his career, doesn't seem to show any trepidation about the road ahead. The high level of emotion he displayed in Jeymes Samuels' instant classic, The Harder They Fall, as a young Nat Love, helped to usher in the thought of a Black Western Cinematic Universe. And while his future projects have yet to be announced, there's no denying that this acting powerhouse has quickly become one of the most promising young artists to do it.

Kaci Walfall

Past: Army Wives (2013)
Present: The Equalizer, Modern Love (2021)
Future: Naomi (2022)

Right now, as part of the CW superhero network, Kaci Walfall has a whole multiverse on her shoulders. But this awe-inspiring role comes after years of hard work, as she performed in bit parts on TV shows such as Army Wives, Person of Interest, and Starz's Power. Now, the 17-year-old actor is building on her sturdy résumé to serve as an inspiration to young DC Comic fans and lovers of caped crusaders everywhere. As the title character in Ava DuVernay and Jill Blankenship's Naomi, Walfall plays an overachieving teen (and Superman super-fan) who discovers in this panel-to-screen adaptation that she has beyond extraordinary powers of her own.

With mothers and daughters all tuning in at record pace, Naomi is already the second-most-watched broadcast series this TV season. The inclusion and diversity showed on camera, while reflected also behind the scenes, finds Kaci Walfall as the conduit that inspires others to share their IG stories praising the show. An incredible origin story, Naomi and the actress are both learning and growing into their star power.

Skylan Brooks

Past: The Inevitable Defeat of Mister & Pete (2013)
Present: Castle Rock (2019)
Future: A Night Worth Living (TBA)

Black cinephiles first came to learn of Skylan Brooks' empathetic style in George Tillman Jr.'s The Inevitable Defeat of Mister & Pete. He made Jennifer Hudson earn every inch of screen time in that 2013 breakthrough film. More contemporary audiences will remember him alongside Jake Gyllenhaal in the boxing drama Southpaw and as "Ra-Ra" in Baz Luhrmann's The Get Down. But with those credits on his IMDb, he's not settling for any sort of copy-and-paste role.

He never disappoints in offering a unique character arc, as he does as Hamster, the sidekick of Max Fist, in Adam Egypt Mortimer's Archenemy. Alongside Zolee Griggs and Joe Manganiello, he explores the darker side of the superhero genre and shows why he's a serious shot for DC's early-in-development Static Shock film. With three more projects in the works, add A Night Worth Living to your watch list. It centers on Brooks as a high school romance blogger who uses social media to anonymously end a relationship between his childhood bae and her cheating influencer boyfriend, in hope of becoming her new no. 1.

Halle Bailey

Before being cast as the world's most popular mermaid (sorry Aquaman!) — Halle Bailey was selling out stadiums and stunting on red carpets with her sister Chlöe. As the sister duo would add another dynamic level to Beyoncé's Parkwood Entertainment, Halle would make her on-camera debut in the series Grown-ish, as the intensely smart and sassy track athlete, Sky Forster. Regarded as the "scariest member" of the Yara Shahidi-led group, connoisseurs can notice just how solid of a performer Halle is when compared to her real-life person — which is all about the smoke.

With film credits that also include Last Holiday, Let It Shine, and her mentor's visual tour de force, Lemonade – The Little Mermaid is Halle's first major on-screen role. Rob Marshall, the director of the Disney live-action remake, chose her because of her voice and how her presence lights up the screen. And despite the trolls sharing their putridness at the news of her casting as Princess Ariel, Halle Bailey will inhabit the spirit of a cherished character for a whole new generation to love.

Chosen Jacobs

As Mike Hanlon in the box office hit films, IT Chapter One and IT Chapter Two, Chosen Jacobs proved to definitely be a rising star. Although new to Hollywood by way of Springfield, MA, Jacobs has taken his musically and theatrically gifted self — he began as part of the Georgia Boys Choir — and shared it with the rest of the world. He had already successfully dipped his toe into television with recurring roles on Hawaii Five-O and God Friended Me, which increased his stock as we headed into 2022.

Now, with music producer and instrumentalist added to his toolbox, Chosen is an actor and a singer that will hit another level with two projects that prove he knows how to put on a show. Purple Hearts, a romance drama directed by Ben Lewin and Elizabeth Allen Rosenbaum, will find him alongside former Disney star Sofia Carson; while Sneakerella marks his House of Mouse debut as "El," an aspirant sneaker designer from Queens who falls in love with the daughter of a sneaker tycoon, played by Lexi Underwood.

If you're a pretty observant cinephile, then you can clearly see that Chosen Jacobs has been chosen (pun intended) to be a bright light on that silver screen.

Priah Nicole Ferguson

Past: Atlanta (2016)
Present: Stranger Things (2022)
Future: Boo! (TBA)

15-year-old Priah Nicole Ferguson may be best known for her breakout role as Erica Sinclair on Season 2 of Stranger Things, but that's not all audiences will come to love her for. A natural when it comes to timing and profound delivery, Ferguson's quick-wit charm and rapid-fire delivery has encouraged Hollywood to put her in projects ranging from Atlanta to Bluff City Law with more in store.

We love to use the term "breakout star" quite often, and Ferguson, perhaps, may become one of the biggest breakout stars to graduate from Stranger Things when it ends this year. With a solid slate of work ahead for the Atlanta, Georgia native, Ferguson will be front-and-center in the animated action-adventure series My Dad the Bounty Hunter, which will also stars Yvette Nicole Brown and Yvonne Orji. Also, as yet to be announce, she'll co-star alongside Marlon Wayans for Jeff Wadlow's Boo!, a horror comedy about a young girl who must team with her father to catch a mischievous spirit. If her character's name is any indication of the success to come for Priah Ferguson, consider this: you can't spell "America's Star" without Erica.

Ariana Neal

Past: Hidden Figures (2016)
Present: Archive 81 (2022)
Future: TBA

If Ariana Neal's face is familiar to you, it's probably because you've seen her in numerous commercials and films since the age of 5-years-old. Now, at 17-years-old, the multi-talented actress has tugged at heartstrings in Ryan Coogler's Fruitvale Station and made comedy fans bust a rib alongside Kevin Hart in 2015's Get Hard. As an up-and-coming star, roles such as these make it clear that Neal has the chops to have a long-lasting career in Hollywood.

Part of that fact is because she carries a presence that resonates through the lens. A standout in Netflix's Archive 81, which stars Mamoudou Athie, Neal as Jess, a possibly endangered young resident in the series, showcases a range of emotions and acting skills that instantly set her apart in the scripted drama. Even if you're not familiar with her name just yet, you should definitely get used to hearing it as Ariana Neal has a chance at being a dynamo in the near future.

Storm Reid

Past: 12 Years a Slave (2013)
Present: Euphoria (2022)
Future: Darby Harper Wants You to Know (TBA)

It's refreshing to see Storm Reid on our screens these days. 2020's BET YoungStars Award recipient earned high marks for her role in J.D. Dillard's Sleight and subsequently would become a household name with the fantasy film A Wrinkle in Time. An NAACP Image Award winner for Outstanding Breakthrough Role in a Motion Picture, Reid has gone on to be a part of projects that have pulled no punches (2019's When They See Us) and scared the s**t out of us (The Invisible Man).

Currently co-starring as Gia Bennett, the sister of Rue (played by Zendaya) on HBO Max's Euphoria, the 18-year-old has diversified her portfolio with roles in the superhero blockbuster The Suicide Squad and the upcoming comedy Killing Winston Jones. Moving into the next decade, Reid has been blessed with an opportunity to grow her huge platform as part of The Last of Us cast. Alongside Nico Parker, Reid will play Riley, the deuteragonist and BFF to Bella Ramsey's Elle, who will most likely take none of the success she achieves this year (and beyond) for granted.