Wendy Williams Announces She's 'Formerly Retired' And Wants To Be A Guest On This Show
Looks like the famed talk show host is not done spilling tea just yet.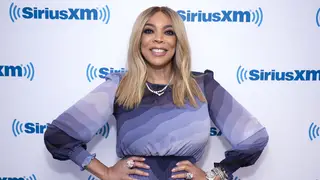 Wendy Williams' health concerns over the past few years has brought her own long-running talk show to a close, but that doesn't mean she's done bringing her trademark hot takes to another program.
Speaking with a paparazzo while out and about in New York City, the television personality said she was "formerly retired" and that she'd be interested in joining the "Hot Topics" table at The View as a guest.
"I'm shopping for kitty litter because I have a wax museum in Paris and one in California," Williams said as she walked into a Petco pet supplies store. "I'm going for a week in Paris and then three weeks in California and then immediately fly back.
"And then I want to be on TV, stuff like Seth Meyers, Joy Behar, Whoopi Goldberg, The View, stuff like that," she added. "I am formerly retired."
Williams has made her admiration for The View's famed segment known in the past and has made it no secret that her own "Hot Topics" segment on her former show was inspired by the OG one where the co-hosts discuss the latest news in pop culture.
Last year, Williams' daytime talk show The Wendy Williams Show, ended after 13 seasons on the air. The 58-year-old did not make an appearance during her last season as she focused on her health. In September, she checked into a wellness facility and continued working on herself.
In November, Williams talked about starting a podcast in a more official return to work.