Charlize Theron and Daughter Jackson Spotted at Paris Fashion Week
The Murder Mystery 2 executive producer has two kids.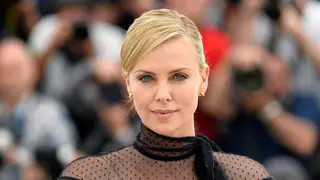 Charlize Theron is making the rounds during Paris Fashion Week with her eldest daughter.
On Tuesday, the Golden Globe winner and her 11-year-old daughter, Jackson, had a high fashion mommy-daughter date while sitting in the front row at the Dior show, as reported by PEOPLE.
The pre-teen was too cool while rocking a preppy red and white plaid jacket and skirt, while her famous mom wore a white top with rolled-up sleeves.
Along with Jackson, The Murder Mystery 2 executive producer is also mom to a 7-year-old son named August.
In 2018, she opened up about her motherhood journey and her decision to adopt kids based on early life in South Africa and exposure to orphanages and poverty-stricken children in her community, as reported by the publication.
"Even when I was in relationships, I was always honest with my partners, that adoption was how my family would look one day," she explained. "This was definitely not a second option for me. It was always my first."
Since becoming a mom, she is enjoying the bond her kids have formed with each other.
"We went through this really beautiful stage a year ago where the baby was hugging her sibling and there was all this love and affection," she shared. "I was bawling my eyes out every day saying, 'This is the most beautiful love I have ever witnessed in my life.' "
"Now the baby is almost 3 and realizes she doesn't have to do everything her sibling tells her. There's a lot of wars in my house. I'm like, 'Where's the cute period that we went through?' "