Presidential Medal of Freedom Recipients Honored At White House
President Joe Biden saluted the honorees, proclaiming "This Is America."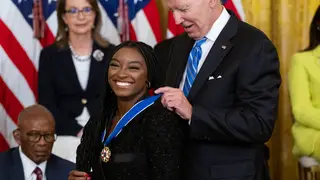 President Joe Biden awarded 17 Americans the Presidential Medal of Freedom in a ceremony at the White House. The award is given annually by the president of the United States to recognize people who have made "an especially meritorious contribution to the security or national interests of the United States, world peace, cultural or other significant public or private endeavors." The Presidential Medal of Freedom is one of the highest civilian awards of the United States.
A recipient himself, President Biden laughed and joked with the new recipients as he honored them and their service to the country. Denzel Washington was forced to miss getting his award today due to a case of Covid-19. The 67-year-old actor was noted for being one of the nation's most acclaimed dramatists. Biden promised that Washington will receive his medal from the president at a later time.
Teasing Simone Biles as he awarded her, Biden suggested that the nation's most decorated gymnast in history couldn't find room to add another piece of hardware to her 32 Olympic and World Championship medals. At just 25, Biles is the youngest person to be awarded the honor. In addition to her athletic prowess, Biles is an advocate for athletes' mental health and safety, children in the foster care system, and victims of sexual assault.
Civil Rights movement activist Diane Nash was honored for her role as a founding member of the Student Nonviolent Coordinating Committee. She was part of organizing some of the most important civil rights campaigns of the 20th century. Biden shared a story of Nash's bravery that happened when she was a 23-year-old Fisk University student. A member of the Kennedy Administration called Nash to warn her that there was evidence that one of the stops on the Freedom Ride through the South was certain to bring harm to the riders, Nash said, "We know someone will be killed but we can not let violence overcome nonviolence."
Referring to him as "one of the most important civil rights attorneys in American history," Biden marveled that Fred Gray still practices law at the age of 91. The first Black man to serve in the Alabama State legislature since Reconstruction, Biden namechecked Dr. King, Rosa Parks, Claudette Colvin and Rep. John Lewis for calling on "a guy called Fred Gray" to represent them in their fight for freedom.
The first American to receive a Covid-19 vaccine outside of clinical trials, New York City critical care nurse, Sandra Lindsay was also awarded.
President Biden became the first president awarded a Medal of Freedom to bestow the honor to others in today's ceremony. At the end of the presentation, Biden pointed to the awardees and said, "This is America."