Kanye West Apologizes For His Anti Semitic Tweets, Says It Came From A Place Of "Hurt"
The since-deleted tweet said he would go "death con 3" on Jewish people.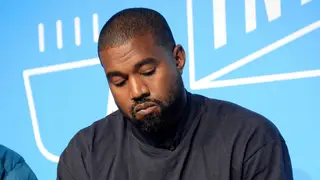 Kanye West is feeling remorseful about his anti-semitic "death con" comments on Twitter and is claiming that his remarks came from a place of "hurt."
During his appearance on Piers Morgan's talk show, the rapper shared that he is "sorry" for the people who were offended by his "death con" comment.
In a since-deleted tweet, West, who also goes by Ye, shared he would go "death con 3" on Jewish people. A follow-up tweet, the 45-year-old said, "the funny thing is I can't actually be Anti Semetic because Black people are actually Jewish also."
"I will say I'm sorry for the people that I hurt with the 'Death Con' — the confusion that I caused," he said on Sunday (Oct. 8).
"I feel like I caused hurt and confusion. And I'm sorry for the families of the people that had nothing to do with the trauma that I have been through and that I used my platform, where you say hurt people hurt people, and I was hurt.
He continued in the interview, saying, "I gotta let go of that and free myself of the trauma and say, 'look, I'm just gonna give it all up to God right now,'" he continued, "and say to those families that I hurt, I really wanna give you guys a big hug and I'm sorry for hurting you with my comments."
Ye previously appeared on NewsNation with Chris Cuomo to share that he didn't agree with being labeled anti-semitic during their recent interview.
"I don't like the term antisemitic," West expressed in response to his controversial tweets.
"It's been a term that's allowed people, specifically in my industry, to get away with murder—sometimes literally—and get away with robbing and doing bad [to] people. … You're saying it's antisemitic, but I don't believe in that term."
You can watch the clip below of his appearance on Morgan's talk show below.