D.L. Hughley Responds To Million-Dollar Boxing Match Challenge
His potential opponent is Bishop Lamor Whitehead, the New York City pastor recently robbed at gunpoint during his own church service.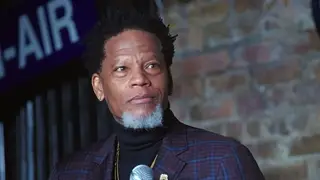 D.L. Hughley is responding to a million-dollar boxing match challenge from Bishop Lamor Whitehead, the New York City pastor who was recently robbed at gunpoint during his own church service.
Bishop Whitehead initiated the challenge moments after having an interview with the comedian and headed to Instagram with a video calling on Hughley to meet him in the ring.
"We need D.L. Little Man Hughley we need to hear what he got's to say since he needs ratings right?" Whitehead says in the video. "At the end of the day he needs ratings y'all, so D.L. Little Man Hughley I challenge you in the boxing ring. Right? Tough guy? I don't wanna hear you don't box because your mouth is big let's get in the ring. I'm not gonna hurt you. I'm gonna knock you out in the name of Jesus I promise you. I'm gonna knock you out...let's set it up. I'll put up a million. Me and my team will put up a million dollars right now."
Once Hughley was made aware of the pending challenge and swiftly responded in the comments section of The ShadeRoom's Instagram account.
"Dis [ninja emoji] spitting!! Nahhh for real, like HE SPITTIN' ALL OVER THE SCREEN," Hughley wrote. "Ol' Sufferin Succotash headahh...What 'Pastor' you know can 'PUT UP A MILLION DOLLARS RIGHT NOW??' Reading from the book of Scamalations #bewareoffalseprophets."
"DL Your a PUNK!" Whitehead wrote back. "You picked The Wrong Pastor To Try And Walk Over! DL Let's Work It Out In The Ring! All I Need Is One Round!"
BET.com previously reported that Bishop Lamor Whitehead of Leaders of Tomorrow International Ministry was preaching during his service, when the masked bandits, dressed in black, stormed into the church with handguns. The minister stopped his sermon and lay on the floor, as they searched his pockets and removed jewelry from Whitehead and his wife. The suspects fled in a white Mercedes-Benz.
The NYPD confirmed that three armed suspects seen on video robbed a Brooklyn pastor and his wife of at least $400,000 worth of jewelry during a Sunday (July 24) service, The New York Daily News reports.
According to WNYW, the police revised their initial estimate of the jewelry's value from $400,000 to more than $1 million.