Brooklyn Pastor And His Wife Robbed At Gunpoint Of At Least $400K In Jewelry During Service
'This bishop, I'm not scared,' Bishop Lamor Whitehead vows to continue his ministry unafraid.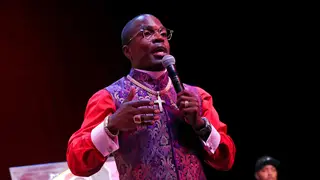 The NYPD confirmed that three armed suspects seen on video robbed a Brooklyn pastor and his wife of at least $400,000 worth of jewelry during a Sunday (July 24) service, The New York Daily News reports.
Authorities say Bishop Lamor Whitehead of Leaders of Tomorrow International Ministry was preaching at about 11:15 a.m. when the masked bandits, dressed in black, stormed into the church with handguns. The minister stopped his sermon and lay on the floor, as they searched his pockets and removed jewelry from Whitehead and his wife. The suspects fled in a white Mercedes-Benz. There were no immediate arrests.
"I was born without jewelry, jewelry don't make me," Whitehead said in an Instagram video after the robbery.
Whitehead said he'll continue his ministry without fear.
"I ain't never scared, and I'm not up here being boastful or talking bad about nobody, but you have these women and children crying still. That's not gangster. That's a layup, like, 'Oh, I robbed a church.' You don't get no points for that," he stated
"We're pushing, we're still doing what we need to do. I'm not a person from the suburbs; I'm from Brooklyn, I'm from the city. I understand the streets. This bishop, I'm not scared," the bishop added.
Whitehead, who served five years behind bars for an identity theft scam, previously made news when he tried to negotiate the surrender in May of a suspect accused of fatally shooting a Goldman Sachs researcher to Mayor Eric Adams, according to the Daily News.
WNYW reports that the bishop showed up at a police precinct in a Rolls-Royce, but the cops had already arrested the suspect.
Whitehead dismissed criticism about his bling and expensive lifestyle.
"It's my prerogative to purchase what I want to purchase," the station quoted his comments on Instagram. " If I work hard for it, I can purchase what I want to purchase."
In a statement, a spokesperson for the mayor said, "No one in this city should be the victim of armed robbery, let alone our faith leaders and congregants worshiping in a House of God. The NYPD is investigating this crime and will work tirelessly to bring the criminals involved to justice."