5 Things To Know About The Haitian Migrant Crisis
Thousands are seeking asylum at the U.S.-Mexico border.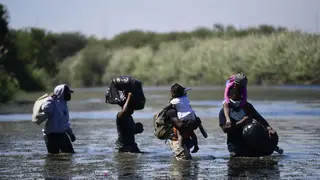 More than 10,000 Haitian migrants have converged near Del Rio, Texas in recent days and are seeking to enter into the United States. It has created a massive migrant camp under an overhead bridge between Coahuila, Mexico and Del Rio.
Alejandro Mayorkas, the Department of Homeland Security Secretary, has promised the U.S. will clear out the camp in the coming days while the Biden Administration is fielding criticism over its handling of the migrant crisis.
Here are five things to know about what's happening at the U.S.-Mexico border.
The surge of Haitians seeking refuge has swelled from around 400 to nearly 14,000 in just days with more expected to migrate

CNN reports there are up to 30,000 Haitians in Colombia who could be seeking to travel north. The Department of Homeland Security is currently tracking between 40,000 and 60,000 Haitians in the hemisphere, though they aren't necessarily seeking to come to the United States.

Destabilization in Haiti is fueling the migration

Even before Haitian president Jovenel Moïse was assassinated and a severe earthquake rocked the nation over the summer, many had been fleeing. Mayorkas cites "security concerns, social unrest, an increase in human rights abuses, crippling poverty, and lack of basic resources, which are exacerbated by the Covid-19 pandemic" as root causes of the migrant crisis.

Many of the migrants who arrived at the border now left Haiti a long time ago and had been living in countries spanning through Central and South America from Guatemala to Chile.

The Biden Administration has decided to deport thousands of migrants back to Haiti

U.S. border patrol agents have detained thousands of people at the border. While families with children have largely been permitted to seek asylum, over 1,401 people have been flown back to Haiti since Sunday (September 19), CNBC reports. The move has many angry with the Biden administration, including civil and human rights groups, who on Wednesday stated the White House's imigration policies are inflicting "cruelty on Black, Brown and Indigenous immigrant communities."

A letter signed by more than 30 civil and human rights groups, including Sherrilyn Ifill, the president and director-counsel of the NAACP Legal Defense and Educational Fund; Anthony Romero, executive director of the American Civil Liberties Union; and Franciscka Lucien, executive director of the Institute for Justice and Democracy in Haiti claims Biden isn't keeping guarantees he made on the campaign trail.

"We fear that commitments made on the campaign trail—to uphold the United States' domestic and international legal obligation to asylum, to end privatized detention, and to disentangle federal immigration enforcement from local law enforcement—are being shredded before our eyes," the letter reads.

Daniel Foote, the US special envoy to Haiti, has resigned in protest of the Biden administration's "inhumane" effort to send migrants back to Haiti

On Thursday (September 23), Foote handed in his resignation to Secretary of State Antony Blinken over the president's handling of the Haitian migrant crisis, saying he will "not be associated with the United States inhumane, counterproductive decision to deport thousands of Haitian refugees" from the Mexican border. He also added that the United States' policy approach toward the Caribbean country remains "deeply flawed," CNN reports.

Foote said that Haiti is grappling with poverty, crime, government corruption, a lack of humanitarian resources and described it as a "collapsed state" that is "unable to provide security or basic services and more refugees will fuel further desperation and crime."

Chaos has emerged at Haiti's main airport

As deported migrants arrive at the country's main airport in Port-au-Prince, many have rushed back toward the planes they had arrived on while others threw shoes at them.

The BBC reports that angry scenes have emerged at Toussaint Louverture International Airport as one man attempted to re-board an aircraft before the plane's crew rushed to close the jet's doors in time. Video footage has also emerged of people scrambling for their personal belongings after their bags were dumped out of the plane.