Lizzo Credits Queen Latifah As Huge Influence and Inspiration Behind Her Career
In a recent interview with NardwuarServiette, Lizzo explains why Queen Latifah means so much to her.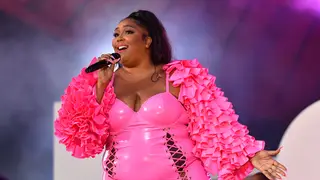 Lizzo is an artist who has become an inspiration to so many young women in the entertainment industry defying the standard aesthetics and breaking the mold to fit her own sense of style and incredible talent. Now, the Grammy award-winning performer is sharing how another A-list artist had a major influence on her music career during her childhood.
In a recent interview with NardwuarServiette, Lizzo explained how Queen Latifah was one of the first female artists who she came across when she was younger, ultimately helping her feel empowered enough to accept and love herself as a full-figured woman in the music and entertainment industry.
"Queen Latifah is like the first person that I saw in media that looked like me — I mean literally to the point people where people were like, 'You look like Queen Latifah,' when I was a kid," Lizzo said. "It was very important to see someone like her be a mogul, rapper, singer, actress, TV host, clothing line, all of it. Look how beautiful she is."
Queen Latifah won the Grammy for Best Rap Solo Performance for her track "Go Head," back in 1995 and has dropped seven studio albums throughout her career. She has starred in several films including the cult classic Set It Off and comedy film Bringing Down The House. She's currently starring in the hit CBS show The Equalizer.
Lizzo's remarks come on the heels of the official trailer release for her upcoming HBO Max documentary Love, Lizzo, where she further discusses her journey into the music industry as a plus-sized artist.
"Nobody was trying to sign a fat, Black girl that rapped and sang and played the flute," she said in the trailer. "It took so much hard work to get to where I am today, but I found my voice. Now, when people see me on stage, they see themselves."
Although it took some time, Lizzo is just at the beginning of enjoying her career successes including winning her first Emmy for her Prime Video show Watch Out For The Big Grrrls, rave reviews of her latest album Special, and the second part of her North American tour of concerts coming in 2023.
Get ready for all things Lizoo when her doc Love, Lizzo premieres on HBO on Nov. 24!  Watch the trailer below: