Quinta Brunson Roasts 'Friends' Lack Of Diversity During 'Saturday Night Live' Monologue
The 'Abbott Elementary' creator and star also shared she always wanted to act on the show and called for teachers to be paid more.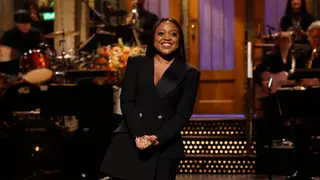 During her Saturday Night Live monologue over the weekend, Quinta Brunson used the platform to take a few jabs while advocating for people close to her heart.
The Abbott Elementary creator and star made her debut on the NBC sketch comedy series Saturday (April 1) and shared that it had always been her dream to act on SNL. She also joked that the audition process "seemed long," so instead, she "created my own TV show, made sure it became really popular, won a bunch of Emmys and then got asked to host and it was so much easier!"
Brunson's trademark wit followed her through her monologue, which had her comparing her highly successful network sitcom's success to Friends, another famed program. "Except instead of being about a group of friends, it's about a group of teachers. And instead of New York, it's in Philadelphia. And instead of not having Black people -- it does," she joked.
The 33-year-old also used her platform to advocate for teachers, much like her Abbott Elementary character Janine Teagues and her real-life mother Norma Jean Brunson, she called for better conditions for teachers across the country, including better pay, adding that they get "taken for granted."
"Please remember how important teachers are, acknowledge the work they do every day and for the love of God, pay them the money they deserve," Brunson said.
Watch Quinta Brunson's full SNL monologue below.