Lil Yachty Launches His New Pizza Line 'Yachty's Pizzeria'
The pizza line is now available in Walmart's nationwide and comes in four flavors but no broccoli.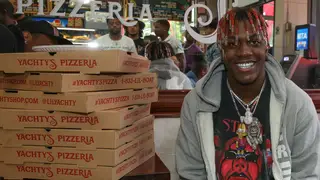 Lil Yachty is entering the food industry with his new frozen pizza brand Yachty's Pizzeria, and he shared his excitement about the launch with People.
In the interview, the rapper told the publication that his love of pizza piqued his interest in entering this lane.
"Because I [love it]," he expressed.
"I'm going to get into dining-style pizza in due time, but I love frozen pizza, genuinely — a lot. I always want to do things in partnerships that I like in real life."
For those wondering how the pizza brand will stand out amongst other frozen pizza companies, the 25-year-old spoke about the taste.
"It's a really interesting taste, and it has this cheddar cheese crust that is unique," he expressed.
If you're a pizza lover, I think you should always want to try a new pizza. And that's who it's for — the real pizza lovers like myself, or the moms who maybe want to just throw something in the oven for the kids. That was my life growing up. Frozen pizza, f—in' pizza rolls, you know?"
The "Broccolli" rapper shared that Yachty's Pizzeria comes in four flavors: Buffalo Style Chicken, Hot Honey Cheese, Pepperoni & Bacon, and Veggie Supreme. After being questioned about not adding broccoli as a choice for one of the flavors due to the hit record with the same name, the Georgia native revealed he didn't include it because he finds the vegetable "disgusting."
""Broccoli" was always about marijuana more than vegetables, even though I don't smoke or eat it," he revealed.
"I hate the smell of broccoli. Steamed broccoli smells so disgusting. I don't eat vegetables, bro. I wouldn't have made a veggie pizza, but it's not all about me."
The pizza line is exclusively available now at in Walmart stores nationwide and are priced under $7.