Symone Sanders, Strategist And Former Spokeswoman For Kamala Harris, Heads To MSNBC
She was one of the vice president's fiercest defenders.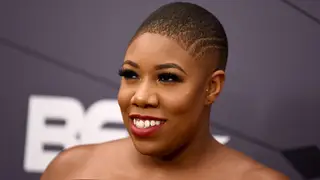 Symone Sanders, the former top spokesperson for Vice President Kamala Harris, was hired by MSNBC to host a weekend show on the network coming in the spring.
According to The Washington Post, MSNBC announced the hiring on Monday (Jan. 10) but did not immediately reveal details about the unspecified program, which will air on the cable channel and on the network's Peacock streaming platform "The Choice" 24/7 news channel.
Sanders was a spokeswoman for Sen. Bernie Sanders' 2016 presidential campaign before accepting a political advisor post for the Biden-Harris campaign in 2019. As a political strategist, Sanders helped to build bridges between then-candidate Joe Biden and Black voters.
While on the administration, Sanders was one of Harris' fiercest public defenders, according to the Post. Harris has had a challenging portfolio of policies on her agenda for the administration, including stemming the migrant crisis at the southern border that has perplexed other administrations.
Harris also faces an uphill battle to help the administration push voting rights legislation through the Senate because of the chamber's filibuster rule, which requires 60 votes to advance most legislation in an evenly divided Senate.
While working on those policy issues, the vice president's office has faced concerns about its messaging discipline and staff dysfunction, the newspaper said. Although she worked closely with the administration on these issues, at the end of December, Sanders announced her departure.
According to The New York Times, hiring Sanders was a major programming move for MSNBC's president Rashida Jones, who was hired in December 2020. Jones must make changes after anchor Brian Williams stepped down and host Rachel Maddow decided to scale back her on-air time.
Sanders was a CNN commentator who routinely confronted Republicans on air about the issues of the day with a knack for making them look bad and creating viral moments. In one of those moments, former Virginia Attorney General Ken Cuccinelli told her to "shut up." Sanders used that as inspiration for her memoir, No, You Shut Up: Speaking Truth to Power and Reclaiming America.