Timbaland Gives Update On His Hair Transplant Procedure To Treat Alopecia
Alopecia is a condition that can cause hair loss on the scalp and other areas of the body.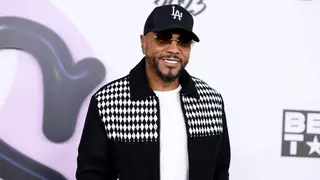 Timbaland is taking steps to get his edges back.
On Friday (Nov. 17), the super producer took to his Instagram Story with a photo highlighting the progress he has made after undergoing a hair transplant procedure to treat his alopecia, as reported by Complex. 
"You see @dr_haroldsiegel work," he captioned an up-close snap of his improved hairline. "Don't say I didn't tell you."
In 2018, Jada Pinkett Smith opened up on her hair journey with alopecia during an episode of "Red Table Talk." Over the summer, she shared photos of her hair growing back. 
Back in September, Timbaland revealed to fans on the platform why he decided to go through with the procedure for a "natural transplant with Dr. Siegel."
"Working out, changing your body, I can put the work in," he said. "This one — I have to go get work. It's no getting around it. I started seeing things getting lighter and I'm like, 'You know what? Let me do it earlier than later.' I'm tryna tell y'all — don't be jealous!"
In the caption of the reel, he thanked the doctor, along with his team at Natural Transplant Clinic "for taking care of me and giving me that extra care and attention with my new hair."
From his vantage point, "Taking care of your hair early AND with the right doctor is key."
He also added the hashtags #misteredges and #edgesloading the caption within the post.