Jada Pinkett Smith Shares Photo of Hair Growth Amid Alopecia Journey
Over the years, the actor has been vocal about her hair loss.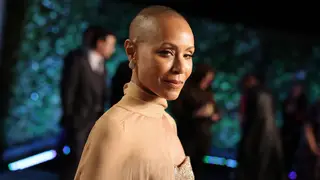 Jada Pinkett Smith is not letting her bout with Alopecia rain on her parade.
On Monday (August 7), the actress took to Instagram to share with her followers a couple of selfies that highlight her hair's regrowth, according to PEOPLE.
"This here hair is act'n like it's try'n a make a come back. Still have some trouble spots but — we'll see✨," she wrote in the post. She also indicated that "Slide 1" is an image from the "Past," while "Slide 2" is one from the "Present."
In the first image, Pinkett Smith looks radiant! Even her brows are on fleek. The Red Table Talk show host's skin is luminous as her piercing green eyes speak life. In the selfie, she is also wearing a cozy white top.
In the following image, the photo spotlights her growing strands that have been dyed blonde.
In 2018, The Matrix Resurrections star shared with the world that she has alopecia in an episode of her roundtable show, Red Table Talk.
She revealed, "A lot of people have been asking why I've been wearing turbans. Well, I haven't talked about it. It's not easy to talk about, but I am going to talk about it."
"I was in the shower one day and had just handfuls of hair in my hands and I was just like, 'Oh my god, am I going bald?'," she continued, adding "It was one of those times in my life where I was literally shaking in fear. That's why I cut my hair, and why I continue to cut it."
She continued, "My hair has been a big part of me. Taking care of my hair has been a beautiful ritual and having the choice to have hair or not. And then one day to be like, 'Oh my god, I might not have that choice anymore.'"