[Watch] The Top 12 Craziest Things Louis Farrakhan Said on The Breakfast Club
The National of Islam leader dropped some major keys.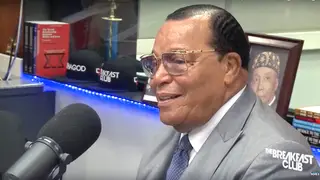 Louis Farrakhan stopped by the Breakfast Club yesterday and, of course, dropped a lot of knowledge — or, at least, a lot of interesting opinions — during his two-hour visit.
The Nation of Islam leader joined DJ Envy, Angela Yee and Charlamagne Tha God to talk politics, Black communities in America and a long list of other topics. As always, Farrakhan did not hold back any of his opinions, even the ones that may have made listeners somewhat uncomfortable. To save you some time, we broke down his lecture into the 12 most interesting sound bites. 
When discussing Donald Trump, Farrakhan said, "This man is peeling back the onion of white civility. And every one level of that onion that he peels back, more and more of the nakedness of rancor and hate and bitterness is coming up out of the fallows." When asked what people need to do if either Trump or Hillary is elected, Farrakhan responded, "You need to pray."
Pressing further on the topic of the upcoming presidential election, Farrakhan passionately proclaimed, "We don't need the Democratic part, we don't need the Republican Party, we can get a little from both of them. But Elijah Muhammad said, 'We ought to form our own political machine. A machine that works for the oppressed. The oppressed Black, brown, red, yellow, white. Let's come together and form our own party and give the other parties hell and the vet who we want, and take down these crooked, rotten politicians."
Charlemagne Tha God asked Farrakhan if he agreed with Malcolm X's opinion of how Black Americans would rise from oppression, saying, "It may be. Brother Malcolm said, "It's either the ballot or the bullet.' What was brother saying? He's saying there's much that could be accomplished if we voted intelligently." Adding, "But if we don't vote, if that won't work. Malcolm said the bullet will."
Farrakhan spoke about Black communities, saying, "It is our responsibility to protect our community, we do not need racist police policing us, killing us as [they] please. Why not we police ourselves? Why couldn't those Black officers who are trained, soldiers who are trained?" he said. "Why can't we train our young people and instead of the money going to a system that oppresses, some of those tax dollars that we give to police, give them to us and let us police ourselves."
He spoke on the importance of keeping money within the community, instead of giving it to other, established communities. He said, "$1.1 trillion comes through our hands this year. That makes us the ninth richest country in the world." Adding, "He we are, nearly 50 million people, and we are here begging somebody else… this is the crime."
Farrakhan told The Breakfast club that at a "Justice Or Else!" March, the activists said they were going to boycott Christmas. "We boycotted Christmas. We told our people, 'No, it's up with Jesus and down with Santa,'" he said, adding that God answered their prayers and made the weather so warm that all the winter sales didn't produce as much money as in previous years.
He said that every Black person should save five cents a day to contribute to a treasury for the Black community. When he asked whom Black people could trust with that money, Charlemagne jokingly responded, "Beyoncé." But Farrakhan was not kidding. "But I think Black people know the minister. They may not agree with me, but they know I'm not selling them out. They know I would never violate my oath to the honorable Elijah Muhammad to work night and day for the rise of my people." Adding, "You couldn't get me to be corrupt."
Farrakhan voiced his belief that some vaccines are set up to harm babies, and compared this to early American colonists giving blankets with smallpox to Native Americans. "This is the same man who went to [the] Native people saying, 'All you need is this blanket and it will keep you warm during the winter months.' But the blankets were filled with smallpox. And we wrapped ourselves in the blanket. And we wrapped ourselves in death."
When asked about his controversial opinions on how women should dress, Farrakhan clarified. "Dear sisters, look. I am in love ... I love you like I love life its self. I respect and honor you because that's the way I've been taught and trained. But my dear sisters, you have to learn how to respect yourselves."
Farrakhan said the leading cause of death in the Black community is abortion. "Have you ever checked out the statistics of how many abortions go through the Black community in a year? Not just some. Millions of unborn life, life that could answer the prayers that we have sent up to God," he said.
The group spoke about the importance of women, and Farrakhan said, jovially, "Who gets the spoils of war? It's the one who wins. And why are you called booty?" He asked, looking to Yee. "Why is your backside called your booty? [Because] it's a treasure."
When asked what his thoughts were on George Zimmerman selling the gun that killed Trayvon Martin for a quarter of a million dollars, Farrakhan sat back and, sadly, said, "Well that's like the cross that Jesus was martyred on, somebody come along and sell a piece of it. Is that somebody that loves Jesus?" He added, "I would I want a piece of the cross that you nailed my savior to. Why would I want to buy a gun that you used to kill my brother? But that shows you the hate that is in the world."
Check out the whole interview to hear some of Farrakhan's other opinions and ideas.