See The Sexy Mini Dress By A Black Designer That Beyoncè Wore To Present Colin Kaepernick With An Award
Cake by the pound.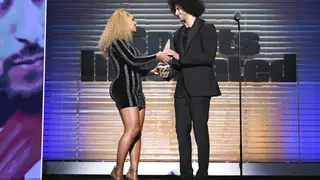 We're always here for unabashed declarations of Black pride and last night we saw one of the most powerful ones this year. At the Sports Illustrated Awards, Beyoncè surprised everyone by turning up to present Colin Kaepernick with the Muhammed Ali Legacy Award. 
Bey gave a meaningful speech that mused on Kaep's selflessness and the inherent Americanness in racism. The moment of Black excellence was further amplified by Bey wearing a LaQuan Smith dress. Smith is a buzzy emerging designer whose garments have also been seen on Cardi B, Kim Kardashian and Young Thug. This sexy, sparky mini dress was from Smith's SS18 presentation. 
Watch Bey present the award to Kaep below, and take in this sparky serve. #CakeByThePound