Big Freedia Collaborates with Louisiana Philharmonic Orchestra For First Performance With a Live Orchestra
The artist talks about bringing bounce to the orchestra!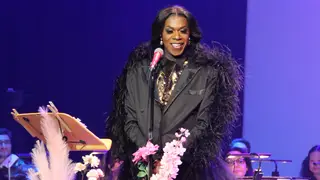 Big Freedia, a pioneering artist, is credited with catapulting New Orleans Bounce Music into the mainstream. She's known for her chart-topping hits like "Louder" and "Karaoke," and her collaborations with heavyweights like Beyonce and Drake have produced some of the most notable records in recent years. 
In her latest project, Big Freedia partnered with the Louisiana Philharmonic Orchestra (LPO) to stage a groundbreaking concert. The event featured a captivating live performance by Big Freedia, accompanied by a 50-piece orchestra in the vibrant city of New Orleans. The unique concert merged the genres of bounce and classical music to create an unforgettable musical experience.
After two years in the making, the groundbreaking collaboration between Big Freedia and LPO came to life on Thursday, April 13, at the Orpheum Theater in New Orleans. The much-anticipated event promised to deliver a unique and explosive experience in Crescent City, and it certainly did not disappoint.
"It was very different, I must say, but it was something that I wanted to do. Having the orchestra behind me playing all of those different strings and the sounds was something new my fans would experience. It will be a moment in history," said Big Freedia.
Under the guidance of conductor Jonathan Rush and arranger Jay Weigel, the orchestra flawlessly performed a setlist of 14 carefully selected tracks from Big Freedia's extensive catalog. The electrifying performance included beloved classics such as "NO Bounce," "Chasing Rainbows," "Rent," and "Explode." However, what set this concert apart from Big Freedia's previous shows was the remarkable effort required to rebuild and adapt each song for the vast ensemble of performers. It was a true collaboration between the artist and the orchestra, resulting in a one-of-a-kind musical experience.
"We're not a hired band. We don't sit the music in front of the orchestra and perform it at one rehearsal and the show. We have been working on this for months," said Anwar Nasir, Executive Director of LPO.
"It's almost like creating new music. Much of it has already been written, but we're building on top of it. Some things we have to break apart and do it differently than the way the band does it every other night," said Nasir.
After the set list was confirmed and the music constructed for the show, Big Freedia and the LPO rehearsed for weeks to get the concert to be a high-intensity performance. The final product was a remarkable show that entertained everyone who was there. Big Freedia continues to execute moves that put her and bounce music on the biggest stages.
What's next for the artist is a new album releasing in June and the premiere of her new show, Big Freedia Means Business. The series will chronicle her triumphs in music, business, and life. The series will debut this Summer on Fuse TV.
"I'm just going to keep elevating and bringing it. I think people will be excited to see the new things and sounds I'll bring this Summer," said Big Freedia.