Big Freedia Says Beyoncé's 'Break My Soul' Collaboration Was A 'Surreal' Moment
This is the second time the two have worked together.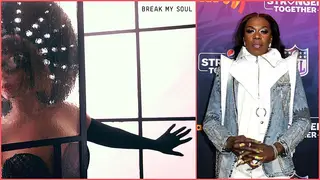 Beyoncé's new single "Break My Soul" has set the internet ablaze and guest vocalist Big Freedia is still in awe about the epic collaboration.
As fans prepare for Bey's new album, RENAISSANCE to drop on July 29, they were teased with the first single from the project, "Break My Soul" late Monday (June 20) night. The New Orleans bounce-inspired track had listeners giving Freedia all the love for her influence and surprise feature.
Heading to social media, Big Freedia gave a warm shout out to Beyoncé calling the moment "surreal."
"It feels surreal to be on the track with the Queen Beyonce," Freedia writes. "Once again I'm so honored to be apart of this special moment. I'm forever grateful lord." After a smattering of emojis, she pleaded, "someone please catch me."
On the new track, Freedia is heard rapping: "Release ya anger, release ya mind / Release ya job, release the time / Release ya trade, release the stress / Release the love, forget the rest."
This isn't the first time Big Freedia has contributed to a track of Bey's. Back in 2016, Freedia was heard on "Formation" from Beyoncé's 2016 Lemonade album.
Freedia has a lot to celebrate right now. Besides working with Bey, she will also join the cast of the new season of "College Hill: Celebrity Edition," which premieres Monday, June 27 on BET+.
Listen to "Break My Soul" below: