Texas Southern University Makes History At National Cheerleaders Competition
I'm so proud of them and where we're going to take the cheer program next,' says the Lady Tigers' head coach.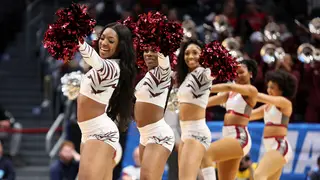 The Texas Southern University cheerleading team made history Thursday (April 6) at the 2023 National Cheerleaders Association (NCA) national championships in Daytona Beach, Fla., by becoming the first HBCU to win the competition in NCA's 75 years of existence, Sports Illustrated reports.

The Lady Tigers competed in the Cheer Spirit Rally Division I category.  They opened the preliminary round with a 94.05 performance score, 94.3 raw score and a 23.5125 performance score. Later in the competition, the squad stepped it up and finished with a 96.1 performance score, 96.1 raw score  and a 95.5875 event score, topping Niagara University's 85.2 performance score.
Head coach Shontrese Comeaux reflected on the team's journey.
"When I first came to TSU, I told the team we're going to Nationals. When we earned our gold bid at NCA Camp, I told the team, 'it's time to go to work.' I knew this was the year and the team to get the job done. I'm so proud of them and where we're going to take the cheer program next," Comeaux said in a statement.
Several other HBCUs participated and placed in the event, including North Carolina A&T , with a score of 98.01; Florida A&M University, scoring 95.22 – both in Intermediate All Girl Division I; Southern University, with 96.18; Jackson State University, at 94.89; and Tennessee State University with 90.43  – each in Intermediate Small Coed Division I.
Here's a list, per Sports Illustrated, of the other HBCUs teams that participated and placed in the top 20 at the event:
No. 10 - Alabama A&M University - 93.93 (Intermediate All Girl Division I)
No. 10 - Bowie State - 93.81 (Intermediate All Girl Division II)
No. 16 - Bethune-Cookman University - 89.65 (Intermediate Small Coed Division I)
No. 17 - Edward Waters - 82.13 (Intermediate All Girl Division II)
No. 18 - Morgan State University - 90.40 (Intermediate All Girl Division I)
No. 18 - Kentucky State University - 74.91 (Intermediate Small Coed Division II)