After Monthslong Search, Suspect Arrested In Slaying Of New Jersey Councilwoman
Eunice Dwumfour was shot to death outside her home on Feb. 1, not long after she had been elected.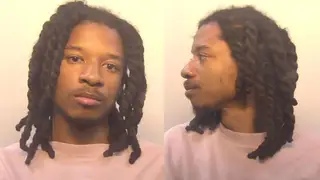 A suspect has been arrested for the murder of Eunice Dwumfour, a New Jersey councilwoman who was shot to death outside her home in Sayreville in Middlesex County, CBS News reports.
At a news conference on Tuesday, Middlesex County Prosecutor Yolanda Ciccone stated that Rashid Ali Bynum, 28, of Portsmouth, Virginia was arrested and charged with first-degree murder, second-degree unlawful possession of a handgun, and second-degree possession of a handgun for an unlawful purpose.
Without incident, Bynum was taken into custody in Chesapeake City, Virginia, where he is awaiting extradition to New Jersey.
Ciccone said Bynum was captured after a witness informed law enforcement that a suspicious white Hyundai Elantra with Virginia license plates was located in the area. Investigators then tracked the vehicle using license plate trackers and E-ZPass logs discovering that the vehicle had traveled from Virginia to New Jersey.
After another witness said they saw a thin Black male around 5 '10' ' tall with braids, and surveillance footage of a figure with similar characteristics in the area of the murder, Ciccone noted. Also, law enforcement officials tracked a cell phone registered to Bynum which had been in use from Virginia to New Jersey following the shooting.
Investigators also discover that Bynum was saved as a contact in Dwumfour's phone as "FCF." which stood for Fire Congress Fellowship church. The ministry was connected to Champions Royal Assembly, a church where Dwumfour was a member, according to Ciccone.
On the day of Dwumfour's death, records revealed that Bynum searched for information about the Champions Royal Assembly and the Sayreville, New Jersey area. He also searched for magazines to fit a specific handgun just days leading before the murder.
Bynum's arrest comes almost four months after Dwumfour was gunned down in her SUV in the townhome community where she lived on Feb. 1. When she was discovered by police, she had suffered from multiple gunshot wounds.
A staunch Republican on the rise, Dwumfour was elected to her first three-year term in 2021, after she and fellow Republican Christian Onuoha defeated two Democratic incumbents.
State Attorney General Matthew Platkin, who also attended the news conference, offered his condolences to Dwumfour's family.
"There are no words that can be said to you that can make you whole. I know this," Platkin said. "I know too often when we're talking about victims of gun violence — senseless acts of gun violence — we feel the pain that you all feel today."