Snoop Dogg Biopic Director Says The Rapper "Dimmed His Light" To Let Tupac Shine
Allen Hughes, who co-directed 'Menace II Society,' recently spoke about his new Snoop biopic and the elements surrounding it.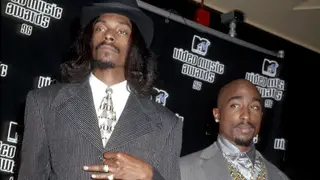 Surprisingly, Snoop Dogg hasn't had a biopic made about his life released to the public yet, but that is in the works.
Director Allen Hughes, who is directing the upcoming immortalization film of the West Coast hip-hop legend, recently sat down with the Rap Radar Podcast and asserted about his project's subject. According to him, Snoop took a backseat during his tenure at Death Row Records to let his labelmate Tupac be the spotlight artist.
"You got a guy that was the rockstar of that era," Hughes told the podcast. "And in the same era, he's on trial for murder… and thank God, [he] beats the case. And then you got all that little window where Snoop dimmed his light for Tupac. I never understood that back then. I remember Snoop just dimming his light and letting Tupac shine when Snoop was the guy, y'know?"
Earlier in 2023, Hughes released his record-breaking docuseries Dear Mama, about Tupac and his mother, Afeni Shakur. The Menace II Society co-director has received much praise and criticism, particularly for his assertion that 'Pac's gangsta persona was largely an act.
Watch the full Rap Radar Podcast episode with Allen Hughes below.