Chance The Rapper And Vic Mensa Announce West Africa Festival
The 2023 music festival is inspired by Jamaican activist Marcus Garvey.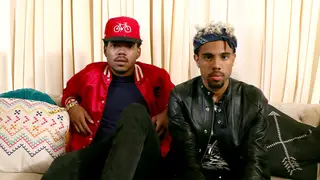 Chance The Rapper and Vic Mensa have partnered on an upcoming festival that will take over West Africa.
Inspired by Jamaican activist Marcus Garvey, The Black Star Line Festival will take place in Ghana, West Africa at the historic Black Star Square on Jan. 6, 2023, according to a press release obtained by BET.com.
"Founded in 1919, and operated by Black people, the [Black Star Line] would link America, the Caribbean and Africa, to global shipping and tourism opportunities," the press release explains. "The Black Star Line was a symbol of pride, not only for Africans, but also for Black people in all ports of call.
Chance The Rapper announced the news on his social media platforms.
Both of the artists have spent the last week in Ghana, mentoring eight students from Chicago to teach them about their African roots, and announced the festival at Free The Youth's flagship location.
For 2022, Chance has collaborated with several artists from The Continent and Diaspora, some of his most recent work include "Child of God," "A Bar About A Bar" and "The Highs & The Lows."
His forthcoming album, Star Line Gallery is expected to release later this year.