Babyface and Chance The Rapper Reportedly Have New Music On The Way
The pair were recently spotted together on the red carpet at the 2022 BET Awards!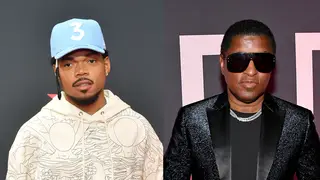 Babyface and Chance The Rapper are collaborating to drop new music.
According to TMZ,  the duo is reportedly working together in the studio for Babyface's future project following his new record deal with Capitol Records.
In case you missed it, the pair was recently spotted on the red carpet at the 2022 BET Awards on Sunday (June 26).
The Grammy award-winning industry veteran hit the stage during the 2022 BET Awards to perform his new single "Keeps On Fallin" with Roddy Rich and Ella Mai. While the Chicago rapper performed his song "The Highs & The Lows" alongside Joey Bada$$.
Babyface is not new to his great collaborations, as he wrote hit after hit for legends like Whitney Houston, Bobby Brown, and Toni Braxton.
Teaming up with Charlie Wilson, Johnny Gill and K-Ci Hailey on their song "No Stoppin' Us" which was released earlier this year, Babyface's checklist for new artist collabs grows even longer and might include Chance The Rapper next up on his roster.