Alzheimer's Disease: New Drug May Slow Cognitive Decline In Trial
November is Alzheimer's Disease Awareness Month and while there is no cure, a new experimental medication signals a glimmer of hope.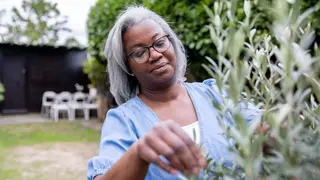 If you've ever had someone you receive the news that they have Alzheimer's Disease—the most common form of dementia—it can be a devastating experience. Watching this person slip away, forgetting names, misplacing items, as the disease progresses, life can be both confusing and maddening for them. There is both grief and desperation for the family and friends. For the person living with the condition one can only imagine how Alzheimer's Disease affects them.
It is sometimes referred to as the long goodbye—the period of time between diagnosis to death from Alzheimer's. And unfortunately, though the disease was officially discovered by German psychiatrist and neurologist Dr. Alois Alzheimer in 1906, there is still no cure.
"The current most common medications - Donepezil and Memantine - do not cure the disease, but are designed to at least minimally slow down the progression of the disease," says board-certified neurologist Jessica Baity, M.D., Thibodaux Regional Health System. "For that reason, we tend to start them early, even if a patient's symptoms are mild— hoping to slow down any worsening of their symptoms," she says.

While experts haven't pinpointed the precise reasons why, many factors are at play, such as people having longer life expectancy and access to better healthcare— which can impact early intervention—and even environmental stressors. "Risk factors like smoking, high blood pressure, exposure to chemicals, diabetes, chronic insomnia, etc., can all contribute to decreased cognitive function," says Baity.
Plus, studies have found that Black patients are less likely to be included in clinical trials and research. "This means less knowledge of how dementia affects us," says Baity. "Given the genetic component to Alzheimer's, it's important to have diverse participation in research and include more African American patients."
Still, while a cure remains out of reach, a new study with an experimental drug by Eisai Co and Biogen , lecanemab, has indicated a decrease in the cognitive and functional decline in a large trial of patients who are experiencing the early stages of the disease. However, part of the challenge is that neurologists are still getting a better understanding of what happens to the brain of Alzheimer's patients.
However, researchers are scheduled to present their findings at the Clinical Trials on Alzheimer's Disease conference held in San Francisco on Nov. 29 – Dec. 2, 2022. But according to the Guardian, while any advancement is welcomed, some doctors caution that patients may not recognize the drug's benefits as they are small.
"We used to think it was only about brain atrophy (or literal shrinkage of the brain), and while it's true atrophy does tend to happen in Alzheimer's, we now think there are abnormal proteins like Tau and Amyloid that deposit in the brain," she says. The new drug lecanemab, targets the amyloid protein and, according to their initial trials, has helped slow the progression of the disease. As we learn more about how Alzheimer's works, we will hopefully begin to see more successful drugs," she says.
There is some element of "normal" cognitive decline as we get older, so just because you're forgetful or have a "senior" moment, does not mean you're headed towards this daunting path. The best thing you can do is to seek professional medical help to address a repeated occurrence of small changes in memory or other brain functions.
See your doctor if you have concerns about the following:
Memory
Concentration
Decreased understanding
Changes in personality
Also, remember that these changes can also be the symptoms of treatable conditions like thyroid dysfunction, diabetes, obstructive sleep apnea, depression, insomnia, and vitamin deficiencies, which, according to Baity, can all mimic signs of dementia. "The sooner you or your family member is evaluated, the sooner you can be treated," she says.