Lil Wayne Recalled His Favorite Memory Of Kobe Bryant
"He strived to be the best in everything."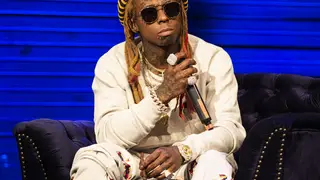 Fallen Los Angeles Lakers great Kobe Bryant's name has always been a staple within the hip-hop community.
Both the old and new generation have used their lyrics to pay ode to his legacy. Infamously, New Orleans rap icon Lil Wayne invoked Kobe's name amid his coup d'etat over New York rap icon and entrepreneurial mogul Jay-Z for the rap throne on his "Dough I Got Freestyle." He recently called up this historical moment with Queens-bred rapper N.O.R.E.  during his appearance on REVOLT's Drink Champs. Additionally, when Tunechi's Funeral album dropped, the release was embedded with several tributary nods to the late NBA icon following his untimely death. 

On Thursday (March 5), Tunechi appeared on MTV's Fresh Out Live where he touched on his friendship with the late NBA icon. When asked what his favorite memory of Kobe was, Tunechi shared that it was "just being able to sit down and talk to him about life."

"As a kid, being a fan, watching him on TV, and going to a game and just not knowing him at all — and just being a superfan and knowing, 'Wow he's really that person off the court in every situation in life' He really has that mentality, just relentless in everything and he strived to be the best in everything," Wayne elaborated. "It's impossible to have a conversation with him and walk away from that conversation not trying to be better at something."

Wayne also shared that he admired the way Kobe was relentless about leveling his game. 

"I think the main thing for me is, what I admire the most is how [his legacy] evolved. We knew him as the kid phenom straight from high school….he hit the league and murked it…[then] he became a champion," he said. "It's very hard to become a champion. Not to mention, he did it again — not to mention, he did it again — not to mention, he did it again and then again. Then when he retired, he dropped like 60 in his walk away game."

He continued, "the admiration comes from after all that...You listen to Vanessa talk at the [memorial] in Staples Center the other night, and now you get the full [picture] of it. You hear how he was a perfect dad, he was a great dad, and you hear how he was this and that, but you gotta hear that from his children and his wife. Vanessa spoke, and you hear that from her. And you see, OK, that's when you're not hearing it no more; you're listening. And then when you listen to Vanessa speak about it, and that's when it just comes full circle, and that's what his legacy was to me. He was, again, relentless and strived to be the best in every single lane there was in life."

Watch a preview of Lil Wayne's MTV interview below. The full interview airs tonight (March 6) at 5 p.m. EST.