EXCLUSIVE: The Secret To Tia Mowry's Youthful Skin Is Chilling In Your Freezer!
The 43-year-old beauty also spoke to BET Lifestyle about why she's partnering with Aveeno in the launch of their #SkinVisibility campaign.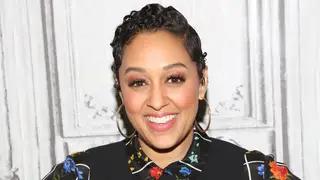 Tia Mowry has clearly found the fountain of youth, and her skin shows it each time she showcases her natural glow on the 'gram. Plagued with eczema in her younger years, the Sister-Sister star we know and love recently shared exclusive details with BET.com about her skincare transformation using affordable beauty products and a little ole product from her freezer that helps her look refreshed every morning. Read on to learn about the 43-year-old actress and mother-of-two's Skincare Journey.
BET Lifestyle: You have recently been very vocal about Black women's skincare, especially in regards to the underdiagnosis and improper treatment of eczema for Black skin. When did you learn that you had eczema?
Tia Mowry: When I was younger, I had raised and itchy round spots on my back and arms. When my mother took me to the pediatrician, the doctor diagnosed it as sunspots. It wasn't until my 20s when I sat down to discuss endometriosis with a Black gynecologist that I was told I had eczema. I was having a bad flare-up that day on my hands, and she informed me that the peeling I was experiencing was eczema. She referred me to a dermatologist who gave me an official diagnosis.
BET: Recently you partnered with skincare brand, Aveeno, who launched the #SkinVisibility campaign to help 100,000 eczema sufferers find relief. Why do you think that it is important to discuss the correlation between eczema and melanated skin?
TM: A large percentage of people within the African American community suffer from the chronic condition eczema, and it usually goes undiagnosed. I am definitely part of the percentage and the issue of misdiagnosis is a part of my story. Growing up I didn't have the tools, resources or visibility on what eczema looks like on Black skin. This caused me to grow up with these symptoms without knowing what was wrong.
That's why I'm extremely passionate about representation. When you see someone that resonates with you, or that looks like you, it makes a huge impact. Aveeno is shining a light on the lack of representation and diversity through their #SkinVisibility campaign.
BET: You seem to also be a personal fan of the Aveeno skincare products. How has the brand helped your skin condition?
TM: I would highly encourage anyone experiencing eczema to try out Aveeno's products. I've been using Aveeno for years. My children also have flare-ups, so we're constantly using Eczema Therapy Daily Moisturizing Cream ($17). My kids and I absolutely love it.
BET: Before you were hipped to Aveeno, what was your beauty hack to combat eczema?
TM: My mother was a huge fan of olive oil and coconut oil, so that was definitely something that we used on our skin to keep it very moisturized. When I was diagnosed with eczema, one of the first brands I was introduced to was actually Aveeno, so I've been using their products since then.
BET: You are aging, gracefully. The BET Family wants to know what is your biggest beauty secret?
TM: My biggest beauty secret weapon is ice. When I wake up in the morning, I gently rub an ice cube on my face until it melts. It helps to smooth any blemishes and really helps right under the eyes, where it can be a little puffy in the morning. It makes my skin nice and tight. It's so refreshing.
To learn more about Aveeno's Eczema in Skin of Color Digital Hub, which features educational resources for identifying prominent chronic skin diseases impacting the BIPOC community, visit the brand's website.
** Editor's Note: The interview has been edited and condensed for clarity.