Civil Rights Luminaries Slam Obama's Georgia Judiciary Picks
Rep. John Lewis and other leaders call on President Obama to withdraw Georgia judiciary nominees.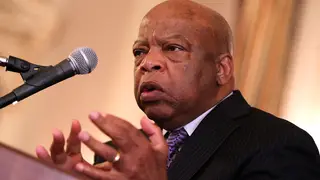 Under most circumstances, Georgia congressman and civil rights icon John Lewis would not publicly challenge President Obama. But he and other African-American leaders are calling on the state's Northern District, CNN reports.
The group, which includes Rev. Joseph Lowry, Rev. C.T. Vivian and Georgia Reps. David Scott and Hank Johnson, are particularly opposed to attorney Mark Cohen and state appeals Judge Michael Boggs.
Cohen, they charge, has been on the wrong side of cases challenging Georgia's voter ID law, arguing in favor of a policy they believe to be discriminatory. Boggs supported having a Confederate emblem on the Georgia state flag when he served in the state's legislature. In addition, only one of the four nominees is an African-American.
In an appearance on CNN, Lowery said that only three of the state's judicial nominees since 1978 have been Black.
"That's not fair. That's not judicial. That's not democratic," he said.
Following tradition, Obama sought support for the nominees from Georgia's two U.S. senators, both of whom are Republicans. He did not, however, confer with House Democrats, as is the usual practice. Lewis told USA Today that the White House either ignored or rejected the nominees they recommended.
"Justice can't be found in secret deals that shut the people out," Lewis said at a Monday press conference. "Mr. President, the lives of the people of this state are hanging in the balance. We believe it is not too late to turn this train around."
BET Politics - Your source for the latest news, photos and videos illuminating key issues and personalities in African-American political life, plus commentary from some of our liveliest voices. Click here to subscribe to our newsletter. 
(Photo: Paul Morigi/Getty Images for Ovation)