NFL Commissioner Roger Goodell Blasted For Caving Under Trump's Pressure And Saying All Players 'Should Stand For The National Anthem'
Reggie Bush calls it a "house boy taking orders from owners who are all part of the majority that support Trump."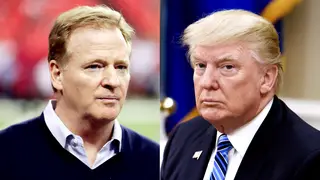 Is Roger Goodell caving under Donald Trump's criticism and pressure over NFL players kneeling during the national anthem?
It sure seems like it, after the NFL commissioner sent a letter to every team in the league Tuesday, saying, "We believe that everyone should stand for the national anthem."
"It is an important moment in our game," Goodell wrote about the anthem in the letter, which was obtained by ESPN. "We want to honor our flag and our country, and our fans expect that of us. We also care deeply about our players and respect their opinions and concerns about critical social issues. The controversy over the Anthem is a barrier to having honest conversations and making real progress on the underlying issues. We need to move past this controversy, and we want to do that together with our players."
Responding to that letter Wednesday morning, Trump tweeted, "it is about time that Roger Goodell of the NFL is finally demanding that all players STAND for our great national anthem -RESPECT OUR COUNTRY."
Well, people aren't pleased with Goodell succumbing to Trump and NFL owners, many of which support the celebrity-in-chief. And they're blasting the league's commissioner with these reactions, letting him know that he fumbled severely.
Here's the entire letter that Roger Goodell wrote and sent to every team in the NFL

We wonder if he'll go so far as to enact a rule, demanding that players stand during the anthem.

Trump got his Twitter fingers on with instant approval

By the way, the president sent this tweet out at 3:47 a.m. this morning. Shaking our heads.

The NFL then tried to distance itself from Trump, acting like the league wasn't influenced by his rhetoric and bashing of the league's protesting players

Nice try, but people weren't buying it at all.

Former NFL running back Reggie Bush called Goodell a 'clown' and referred to his letter as a 'house boy taking orders from owners who are all part of the majority that support Donald Trump'

Bush won the internet with this.

This person added onto what Bush was saying by calling Goodell a 'coward' who is 'scared to stand up to Trump'

And there was more where that came from.

This tweet absolutely ethered Goodell and Trump at the same damn time

We're dead over the "four a.m. toilet tweet" line.

One person took the liberty to get Goodell all the way together by thoroughly decoding his letter

Perhaps Trump's tweet threatening the NFL's tax breaks triggered this from Goodell

Either way, Goodell needs to hold this L.

In case you are wondering what COlin Kaepernick thinks about Goodell's letter, well, he re-tweeted this comment

At the end of the day, Goodell telling teams that players should stand for the anthem does make it look like the NFL is kneeling to Trump