Bobbi Kristina's Friend Describing Nick Gordon's Abuse Is Heartbreaking
New deposition details their violent relationship.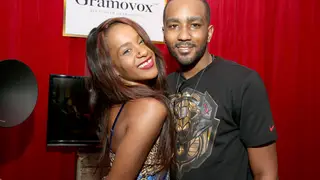 By now it's pretty clear something wasn't right between Bobbi Kristina Brown and Nick Gordon in the days and weeks before she was found face-down and unresponsive in her bathtub, but a recent deposition by her close friend and sometimes roommate reveals, in grisly detail, just how much domestic violence Whitney Houston and Bobby Brown's only daughter endured.
Danyela D. Bradley, a young woman who says she lived with Brown and Gordon in their Alpharetta, Georgia, condo just before her death, says she witnessed an altercation in which Gordon "began kicking Bobbi Kristina in the side to the point that she was on the floor screaming and curled up in a fetal position." This attack caused Brown's tooth to get knocked out. According to Bradley, Gordon then demanded that Brown go upstairs, but she had to crawl, unable to walk after the physical assault.
In the early morning hours of January 31, 2015, Gordon allegedly "returned from being out all night on a cocaine and drinking binge." He then "reviewed camera footage of Bobbi Kristina and listened to her conversations." Later, after coming out of Brown's room in a different set of clothing, Gordon allegedly "got in bed and laid his hand on female guest's ankle and stated, 'Now I want a pretty little white girl like you.'"
Later that same morning, Bobbi Kristina lost consciousness and never again awakened. She passed away six months later.
Bradley's deposition, obtained by RadarOnline, is part of an ongoing lawsuit over a car accident she and Brown were in months before her hospitalization. In a previous deposition, she spoke about the couple's regular and open use of drugs like cocaine and heroine.
Gordon is still being sued by Brown's conservator, Bedelia Hargrove, acting on behalf of her family, and a criminal investigation into his part, if any, in Brown's death is still open.
(Photo by Imeh Akpanudosen/WireImage)