Oh, Snap: Here's Why Kourtney Told Scott's Teenage Lover To 'Back The F**k Off'
The reality star is not a fan of Sofia Richie.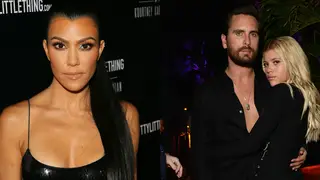 Scott Disick and his 19-year-old girlfriend, Sofia Richie, have been spending lots of time together. However, it appears as the young scion has been extending her pleasantries to her man's children, whom he shares with ex Kourtney Kardashian, and the reality star reportedly isn't here for it.
According to Radar Online, Kardashian recently went ballistic on Disick about the matter, even reportedly threatening to take care of the situation herself if he didn't handle it.
"Kourtney flipped out and she told Scott that Sofia needs to back the f**k off right now before she makes her back off," a source close to the reality star told the site.
The insider added that Kourt's threat didn't seem to have any effect on Lionel Richie's daughter as she reportedly is planning on continuing to foster relationships with Kourtney and Scott's kids.
"Sofia honestly doesn't care what Kourtney thinks and told Scott that she's not going to change the way that she acts towards Mason, Penelope or Reign because of their mom's b******g."
Despite Kourtney's displeasure for Sofia, her momager, Kris Jenner, is only seeing dollar signs as she has reportedly been viewing their love triangle as a profitable storyline for their family reality series, Keeping Up With the Kardashians. In fact, it managed to land Richie a contract on the show.
"Sofia knows that she has Kris on her side and she also knows that she is getting paid more to be on the show than Kourtney's boyfriend, Younes," the insider added.