Nelson Mandela's Championship Belt Given By Sugar Ray Leonard Stolen In South Africa
Sources say the late South African President revered the belt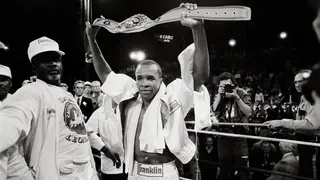 The late Nelson Mandela's World Boxing Council championship has allegedly been stolen from the Nelson Mandela National Museum in Soweto.
According to CBS, the thievery was reported to police on July 1st when the belt was noticed to be missing from the former South African president's home, which is now a museum. The late South African leader is said to have loved the belt gifted to him by fellow boxer Sugar Ray Leonard.
The museum is a popular attraction for many locals and tourists in the township, near Johannesburg. The Vilakazi Street location was near the home of another legendary anti-apartheid activist. The Archbishop Desmond Tutu also was a former resident.
In the 1940s, Mandela boxed when attending Fort Hare University. From 1948 to 1994, when apartheid was the law of the land, Mandela spent 27 years in prison for his activism in fighting against white South African minority rule.
It was in 1994 that Mandela was historically elected as the first democratically elected president of South Africa.
CBS quoted Dimakatso Sello, a police spokeswoman, as saying that leads are scarce. "No suspects have been arrested, and police have appealed for any information related to the theft"