Nelson Mandela Memorabilia to Be Auctioned in South Africa
A collection of eclectic items signed by South Africa's apartheid icon Nelson Mandela will be auctioned in Johannesburg on July 17.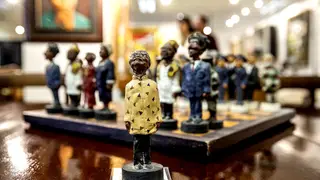 An eclectic array of items signed by former South African president and apartheid icon Nelson Mandela will be auctioned later today in Johannesburg, BBC reports.
About $450,000 is expected to be raised from the sale of 202 items, such as salt and pepper shakers, a signed image of Mandela meeting Michael Jackson, and a chess set featuring figures from either side of the apartheid battle. Statues, refrigerator magnets, ostrich eggs and a set of 850 Chinese telephone cards portraying Mandela's image are also up for auction.
"People always look for autographs, but there are only a handful of items signed by those celebrities. In the case of Nelson Mandela, every person can own a piece of him," Savo Tufegdzic of Stephan Welz & Co, the firm that will put the items under the hammer, told BBC.
"It is not about making money on this auction. It is actually to encourage collecting. I don't want to go and encourage people to sell Mandela items. I want to encourage them to keep them."
July 17, the date of the auction, holds significance as it is the eve of what would have been Mandela's 96th birthday. The freedom fighter, celebrated for fighting minority rule in South Africa, passed away in December.
BET Global News - Your source for Black news from around the world, including international politics, health and human rights, the latest celebrity news and more. Click here to subscribe to our newsletter.

(Photo: Marco Longari/AFP/Getty Images)