Man Wears Blackface At An 'African Safari' Themed Police Fashion Show In Florida
He was also pictured next to one of the state's mayors.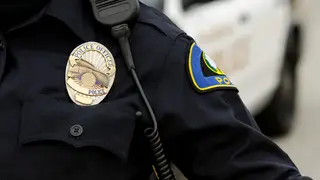 A police department in Florida held what was described as an "African safari-themed" senior fashion show where a man in blackface mingled throughout the event, taking pictures with partygoers.
Medley Mayor Roberto Martell was one of those pictured with the unidentified man, who also donned what looks like an afro. The man wore a tribal-like outfit while holding a spear at the annual event hosted by the town's police department for around the past 20 years.
According to WPLG, the "fashion show" was on September 20 and the unidentified man even won an award for his offensive outfit. Since a photo of the man, mayor and two white women went viral, outrage ignited social media.
Miami-Dade County's NAACP president Ruban Roberts expressed his disappointment to the local news station, especially since the incident involved a local police station.

"If you know the history of blackface, since the 1800s it was used as a minstrel show, a way to depict Black people in a derogatory way," Roberts told WPLG. "In 2019, the mayor [and] police department should be aware of what those images conjure up in people of color."

Martell, who was elected Medley's mayor in 2012, said he was "very sorry" for the photo when reached by The New York Post on Friday (September 27). "This is a senior event that the police have been doing for the past nineteen years," Martell relayed. "We are sorry if we hurt anyone's feelings and it will not happen again."

In a statement issued later in the day, Martell reiterated his remorse over the photo. "I'm upset with myself for not realizing at the time the photo was being taken how serious and hurtful this image would be to people of color. I was insensitive."

Medley's police chief Jeanette Said-Jinete reacted to the incident with a statement: "This event brings our senior citizens together to promote community and have a good time," she said, according to WPLG. "This year's theme was African Safari, and unfortunately, a 78-year-old participant dressed inappropriately and clearly did not understand how others might be offended. For this, we apologize and regret the incident."

Mayor Martell told the Miami Herald he plans to meet with NAACP staffers to discuss the incident. It's unclear where or when the proposed meeting will be held.