Slain Dancer O'Shae Sibley Called 'Beacon Of Light' At Funeral
Sibley was killed at a gas station in Brooklyn after attending a Beyonce concert in July.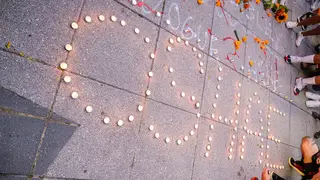 On Tuesday (August 8), hundreds of attendees came to the Met in Philadelphia, the city of Sibley's birth, to pay their last respects to the slain dancer.
Otis Peña, Sibley's best friend described him as someone "who had the power to touch every heart…he was a beacon of light. He encouraged us to stand out and just be us-- he danced with us-- he made us sing. There was a beauty in it all—the power of brotherhood, the power of community and family."
"There's no hate in my heart, it's all love. And unfortunately, it takes a person to open their heart," Peña added.
Laren Pendergrass, Sibley's teacher at Waukesha Middle School, recalled meeting him as a young child and seeing that he had something special to offer.
"I encouraged him to follow his dream," said Pendergrass. "He took joy in his craft … he was so very special."
Bishop Bernard Brown pastor of the United Church of the First Born presided over the service along with Bishop LaTerra Ruffin, a clergyperson from California and Sibely's first cousin. Brown said that Sibley's death was "a senseless loss of life" and noted that he died "doing what he passionately loved—dancing."
Philadelphia City Councilmember Kendra Brooks paid tribute to Sibley with a City Citation "for helping people of every race and creed to find the rhythm that moves their souls."
Sibley, who died just before his 29th birthday, began studying Hip Hop dance at 12 years old under the tutelage of choreographer and educator Clyde Evans, Jr. He also studied ballet and jazz under dance legend Debbie Manning-St. Charles, was at the Philadelphia School of Dance Arts and was accepted into the Philadanco dance company where he took classes with the Alvin Ailey American Dance Theater's Ailey Extension program. As a competitive vogue dancer, he performed at Lincoln Center in Manhattan.
On Friday (August 4), a 17-year-old high school student turned himself in and was charged with a hate crime for fatally stabbing Sibley after calling him a homophobic slur.
At the funeral service, Philadanco announced that a scholarship was established in Sibley's honor "to encourage other students like him to follow their dreams."