Amber Rose's Battle for Ace of Diamonds Strip Club Takes a Dramatic Turn
Nobody said it was easy starting a business.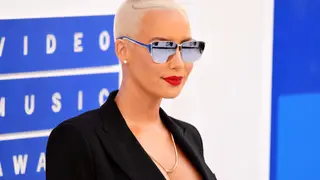 What seemed like an incredibly exciting business venture for Amber Rose has seemingly left her in serious legal trouble. After claiming that she had purchased the popular Los Angeles strip club, Ace of Diamonds, the company curiously clapped back and said, no she didn't.
The purchase never occurred according to SKWS Enterprises, the company that owns Ace of Diamonds. They called her statement "unequivocally false" and are now suing Rose for $1 million. So, how is it that Amber hopped on Instagram over the weekend to put out a casting call for waitresses and strippers for her new venture?
According to Rose's legal team, she filed to form a corporation called Ace of Diamonds, Inc. Filing the trademark for "entertainment services in the nature of live dance performances" and "gentlemen's clubs featuring exotic dancing."
That request came to a screeching halt, however, when her application was rejected because it would cause confusion in the marketplace. Rose now has to wait six months before applying with another name, or another argument to state her case.
While she may not be opening her club as soon as she hoped, Muva is still holding casting calls, taking to Instagram to attract potential waitresses and hostesses. Apparently, she is partnering with the original owner of Ace of Diamonds for a brand-new club, presumably with a different name:
Clearly, she's not letting this legal setback slow her down.
See how Amber's love life may be changing as well with The Wendy Williams Show, above.