Does Tyga Think Kylie Jenner Turned Him Into a Struggle Rapper?
He opens up about the real reason for their break up.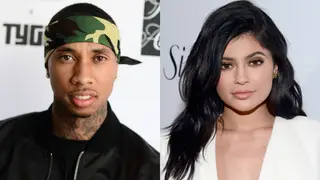 Back in 2011, Tyga was a rising rap star with several fire mixtapes and a two solid albums under his belt. In the years since, he's become more famous than ever, but not for the reasons he might want. Rather than being a household name for his music career, which failed to take off in the way he might have hoped, he's known around the world as Kylie Jenner's on-again, off-again boyfriend.
Apparently, that's the reason behind his breakup from America's most watched teenager.
The "Rack City" rapper has spoken out once again regarding his recent breakup with his longtime girlfriend in an interview with BigBoyTV, where he revealed that he felt like his relationship with the reality TV starlet overshadowed his rap career.
"When you're in a very public relationship like that, it's hard for other people to see you differently than that," he said. "Being in that, it took a lot, career-wise, everything. It overshadowed a lot of my talents and a lot of things that I worked hard for," Tyga said during the interview.
Since their mid-May breakup, the two have already been rumored to finding love in different places, and the 26-year-old rapper clarified that there is no bad blood between the two. "It got to the point where it was like, 'I respect you, you respect me,'" he said. "When something is so damaged or something is just not right, you can't fix it in a moment. The only thing is time."
Despite the dating rumors, Tyga is insisting that he is still single: "I'm enjoying life," he said in the interview.
Just because the two have gone their seperate ways does not mean Tyga doesn't see a reconciliation in the future. "Maybe later on in life, maybe we might come back," the rapper said. "She's young. When you're young, you're going to make mistakes. All of those mistakes are going to be in the public eye so that puts a lot of strain on the relationship. Right now, I want to focus on what I need to do. I just wanted to get back to just me. I think for her as well."
Whether the split from Kylie will help his album sales and critical acclaim remains to be seen.