Magic Johnson Celebrates Son EJ on 31st Birthday 'Keep Living Your Truth'
The NBA legend and businessman shared that he is "so proud" of his work as an LGBTQ activist.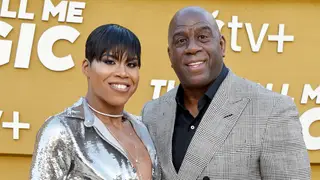 Magic Johnson shared a thoughtful message to his son EJ who recently celebrated his 31st birthday. "Happy Birthday to my son, EJ!! I love your pure heart and creativity!," the NBA legend and entrepreneur wrote on Twitter, adding, "Keep living your truth, it's what I love about you most! Have a great day!"
EJ's mom, Cookie Johnson, sent her own heartfelt message on Instagram, "Happy birthday, my @ejjohnson_! You are my great love! I pray that the Lord will have favor on you and bless you abundantly in your 31st year. Love you sweetheart, Mom."
EJ who came out as gay in 2013 starred in the reality series Rich Kids of Beverly Hills where he gained fans and supporters.
Though there were some negative comments addressed to Johnson's tweet, most social media users supported the ex-Lakers' support of his son.
People earlier this year, Johnson shared his pride for EJ, an LGBTQ advocate.
"I love EJ's career," the NBA legend said. "I think that EJ is really taking charge of his career and making his own decisions, and he knows how and what he wants to get into."
He added, "I'm really proud of him because he's getting so involved and letting his voice help other people too."
Johnson shared, "He's always saying, 'You know what, Dad, I want to make sure everything that I do, that I enjoy it and that it sends the right message out there to my fans and the people who have always loved and supported me.' "
The Hall of Famer said his son often advises younger people in the LGBTQ+ community who are afraid to live their truth, "He's saving a lot of people's lives and people don't even know, and I'm so proud of him."