OPINION: Why Your Favorite Marvel Hero Dying Could Be A Good Thing
It's time to let go.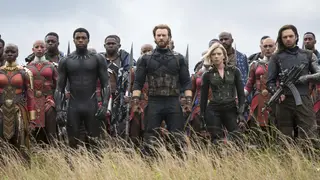 As expected, Marvel's Avengers: Infinity War has broken box office records with its $255 million domestic and $635 million worldwide opening gross. It knocks its studio sibling Star Wars: The Force Awakens off its perch, which held the weekend opening record at $247 million.  However, what has been the real story of the weekend are the hearts broken by fans as they stumble out of the theaters in shock at the film's conclusion.
***SPOILERS BEYOND THIS POINT***
Even though many fans were prepped by the comics for the grand slaughter that takes place in Infinity War, no one knew who or how the dearly departed would meet their end because the films have deviated a great deal from the source material. There were online polls and "dead pools" to see which Avenger would bite it first. While some were dispatched in a way that makes their death feel more permanent, the souls that floated into the ether—a la HBO's The Leftovers—after Thanos' "snap decision" have many wondering if they will be permanent. Because movie viewers are privy to information like which heroes have pending sequels and which actor has an extended contract with the studio, there is ample reason to believe that the deaths can and will be reversed in part two of the film being released in 2019. However, there can be an argument made that the demise of some of these beloved heroes could be a good thing for the MCU.
***OK.  SUPER SPOILERS AHEAD. CONTINUE AT YOUR OWN RISK.***
Let's start with the most suspicious death, King T'Challa, a.k.a. The Black Panther. This death is one of two that has fans believing this can't be real or sustained. After setting box office records, surpassing the $1 Billion mark, and securing a sequel for Black Panther, no one with any common sense thinks Marvel would kill off Chadwick Boseman's T'Challa for good. However, IF they did, this would open up the lane for what many fans have anticipated from the beginning, having his sister Shuri takeover for him as Black Panther.
The teenage Wakandan wonder first appeared in Black Panther vol. 4 #2 (May 2005). Actress Letitia Wright stole the hearts and minds of movie goers with her portrayal of the fast-witted scientist. Stamping white visitors as "colonizers" and critiquing her brother T'Challa's fashion sense made her a fan favorite. More importantly, in the comics she assumes the mantle of Black Panther after T'Challa is wounded in battle. While no one wants to see Chadwick's Black Panther gone, the door is open for the Black Panther sequel to be a passing of the torch to his kid sister. And if you think all Letitia can offer is witty rapport, check out her searing performance in the "Black Museum" episode of Black Mirror for proof of her dramatic chops. And Director Ryan Coogler has already proven that he and his team can do female heroes more than justice. 
Watching Tom Holland plea for this life as he dissolved into Peter powder was gut-wrenching.  And again, no one believes that his death is going to stick, but this would not preclude the highly anticipated sequel to Spider-Man Homecoming from happening. As in the comics, Miles Morales steps in as Spider-Man following the death of Peter Parker. Morales first appeared in Ultimate Fallout #4 (August 2011) and has many of the same powers as Parker. The storyline of him taking over after the destruction of half the universe is compelling enough to push this forward. Actor Shameik Moore voices Morales in Sony's animated Spider-Man feature, but there is a long list of young talent who could play Morales in a stand-alone Spider-Man film.  
While Iron Man narrowly avoids a trip to the upper room in part 1 of Infinity War, Robert Downey Jr. is only contracted through next year's follow-up to Infinity War, the as yet untitled Avengers 4. After helping to kick off the MCU a decade ago and appearing in eight of the films thus far, the 53-year-old might be ready to hang up his nanotech suit. In the comics the mantle of Iron Man is passed down to a 15-year-old MIT engineering student named RiRi Williams, who becomes Iron Heart with some help from Stark. Illustrators based her appearance on actress Skai Jackson and the only thing better than one young black super genius in the MCU is two. 
Like Iron Man, Chris Hemsworth's Thor manages to survive the purge, but also like Downey, Jr. his contract with Marvel is up after Avengers 4. Hemsworth has said in interviews that he is "done" playing Thor, but has backpedaled a bit after the successful reboot with Ragnarok. If Hemsworth departs there have been at least five alternate versions of Thor including Beta Ray Bill and and Jane Foster. And if Marvel wanted to be really cheeky, they could hire either of Hemsworth's brothers, Liam or Luke to play the evil Thor clone, Ragnarok. 
In short, the Avengers: Infinity War culling could be a set-up for an unprecedented pivot in the MCU that would boost the already diverse universe to new heights of representation. And if current events has taught us anything, letting go of our heroes could be a step in the right direction.